Banksy confirms Bristol Valentine's Day artwork is his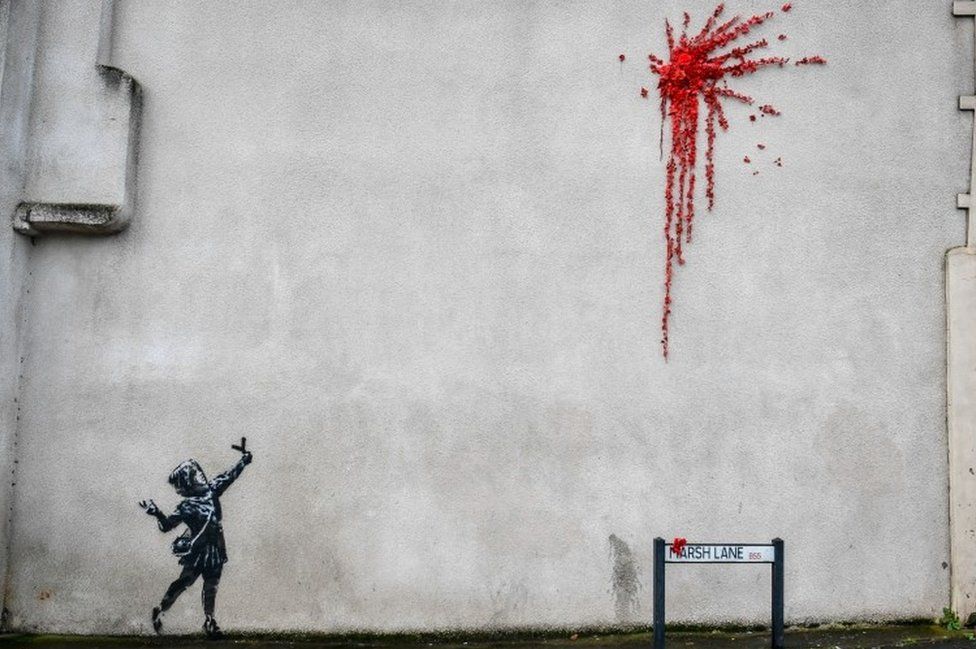 An artwork that appeared on the side of a house in Bristol has been confirmed as the work of street artist Banksy.
The piece features a stencil of a girl firing red flowers made with spray-painted ivy from a catapult.
Banksy published a picture of the work on his Instagram page at midnight on Valentine's Day.
Kelly Woodruff, whose father owns the property in Barton Hill, said they now wanted to protect the "special" work from the approaching Storm Dennis.
"As it's Valentine's Day, it's really special and to have it in 3D with the flowers is incredible," said 37-year-old Ms Woodruff.
"There's so many people coming and enjoying it, taking pictures, it's fantastic.
"There's been a lot of debate if it is a Banksy or not. Most people I've spoken to think it 100% is, and they're naming it the Valentine's Banksy.
"It's incredible and beautiful."
Flowers placed on the road sign as part of the artwork had already been stolen, said Ms Woodruff, and the protective plastic screen they placed over it on Thursday evening had been vandalised.
Ms Woodruff said her family had contacted Bristol City Council's street maintenance department.
The council said it has recommended the family get in touch with the International Fine Art Conservation Studios (IFACS) in Bristol for advice.
The Bristol Somali Community Association, based in Barton Hill, tweeted about the artwork after it was spotted.
Co-founder Saed Ali wrote: "We hope it's Banksy's work.
"Come and have a look yourself. Whoever painted, it's worth admiring their creativity."
Today in Barton Hill, we woke up with this remarkable mural art painted on one of the houses of the area.

We hope it's Banksy's work.

Come and have a look yourself. Whoever painted, it's worth admiring their creativity.
Thank you@TristanCorkPost @bbcrb pic.twitter.com/ppEiKAaOrH

— Bristol Somali Community Association (@BSCAssociation) February 13, 2020