'Birdgirl' Mya-Rose Craig receives Bristol University honorary doctorate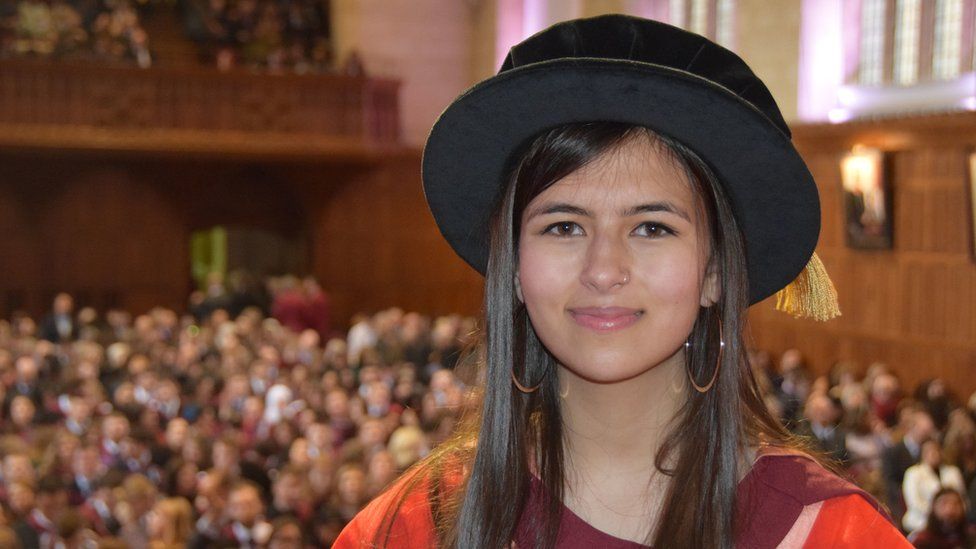 A teenage birdwatcher has urged students to "tackle the environmental crisis" as she received an honorary doctorate at the age of 17.
Mya-Rose Craig, also known as Birdgirl, set up Black2Nature to help engage more children from minority ethnic backgrounds (BAME) in conservation.
She received the doctor of science degree from the University of Bristol.
The environmentalist posts on Twitter as BirdGirlUK and is thought to be the UK's youngest recipient of the award.
Accepting the accolade she said everybody from every community should "tackle the environmental crisis we find ourselves in".
"Now more than ever, it is important to recognise that inequality of engagement creates inequality of opportunity and an unequal world is not a sustainable one," she said.
"I hope that everyone will have their light bulb moment, like I did, when they realise what they really care about and want to fight for."
She called for those graduating to use their skills to "really go out and change the world for the better".
Ms Craig was nominated for the honorary degree by Dr Rich Pancost, head of earth sciences at the university.
"To bestow a comparable honour on someone who is only 17 years old is not a decision we take lightly," Dr Pancost said.
"It is reserved for those who are leading truly special projects, courageous projects, transformative projects.
"Mya-Rose is doing exactly that."
TV presenter and nature enthusiast Bill Oddie said initially he had been "somewhat confused" when he started getting emails from "BirdGirl".
He said: "A super hero? Well, actually yes Myra-Rose is exactly that.
"Intelligent, informed, passionate, and persistent, whatever the cause, such qualities are what gets things done," he added.
She is currently studying English literature, Spanish and media studies at A-level and will sit her exams in May, and plans to take a gap year before going to university to study politics and international relations.
Her mother Helena Craig said it was "astonishing" her daughter was to become the youngest person in the country to receive an honorary doctorate.
She added: "Mya speaking out about race and diversity in the environmental movement has attracted certain people and negativity.
"It's been difficult, so it's good that she is now getting that recognition."
Prof Pancost, ex-director of the Bristol Cabot Institute who also nominated Mya-Rose, said he felt "proud" to see her receive the doctorate as she had created a "phenomenal amount of positive change" for nature.
"She is a champion for diversity and equity in the environmental and conservation sector, challenging institutions but also creating and driving transformative projects like Black2Nature," he said.