Gun smugglers jailed after undercover sting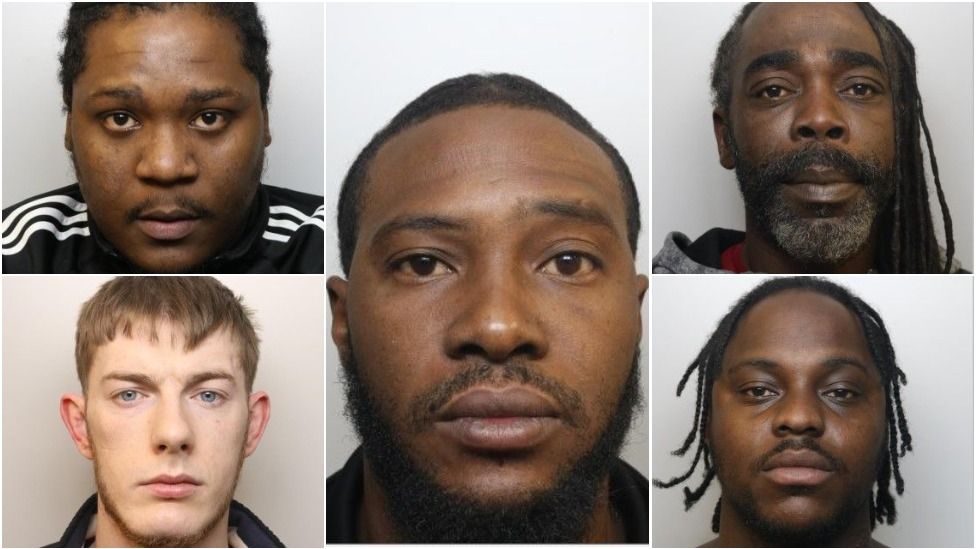 A criminal gang caught by a police undercover operation smuggling guns from the US inside speakers has been jailed.
Avon and Somerset Police said two of the Taurus handguns were brought to the UK hidden inside Bluetooth speakers and a third pistol in a wooden stool.
Five men admitted various charges relating to buying and organising the illegal import of the handguns.
They were sentenced at Bristol Crown Court on Monday.
Judge James Patrick told the men: "Gun crime terrifies law-abiding people in this country. There is no reason to have a gun illegally other than to kill, maim, terrorise or intimidate.
"Each of you was prepared to play your part in putting lethal weapons into the hands of criminals.
"Fortunately, they never reached their intended recipients."
Police said the guns were being sold to the highest bidders and would have fallen into the hands of criminals.
In November, the gang organised for guns to be bought in Atlanta, Georgia.
An associate at a posting company in the US concealed a 9mm pistol and a 40-calibre pistol inside audio speakers, with a third 9mm pistol concealed inside a wooden stool.
One package was sent to an address in Fishponds in Bristol, the other to Hackney in London which was then picked up and delivered to Fishponds.
The Bristol gang then posted a video on an encrypted social media site to advertise them for sale.
An undercover officer worked alongside one of the gang members - Alcot Fleming, 44 - at a paint workshop on the Fishponds Industrial Estate.
The officer was shown the video and bought two of the guns on 29 November and another on 4 December, paying a total of £11,000 for the weapons and ammunition clips.
The guns and cash were swapped at the paint shop and the following day police made arrests at an address in Fishponds.
Police in Miami managed to intercept 330 rounds of ammunition hidden in a speaker before the package could be exported, after a tip-off from UK police.
One of the men, Rhafeek Morson, was overheard in custody telling another offender that the gang had 10 guns for sale.
Referring to the gang, prosecutor Peter Coombe said: "No-one seemed to care about consequences of their collective actions."
Speaking after the case, Det Ch Insp Simon Dewfall said: "This was an organised criminal group working on both sides of the Atlantic to bring illegal firearms into the UK.
"These firearms, which were brand new and unused, would almost certainly have fallen into the hands of those wishing to cause harm to others."
Mr Dewfall said the defendants showed "absolutely no morality" when arranging for the weapons to be imported to the UK and sold off.
Fleming, from Lawrence Weston, Kenville Hall, 30, from Frampton Crescent, Fishponds, and Busiso Benjamin, 30 also of Frampton Crescent, admitted two charges of conspiring to supply firearms.
Hall also admitted a charge of conspiring to possess ammunition.
Addressing Hall, Mr Coombe said: "You headed this operation, the guns were imported at your direction and you actively marketed the weapons."
Hall was sentenced to 17 years and two months.
During sentencing, the judge said: "Each of those 330 bullets had the capacity to kill or maim."
Benjamin was handed a 12-year sentence.
Fleming, described by the judge as a "key facilitator" was told to serve 10 years and six months.
Rhafeek Morson, 30, from Hackney in London, admitted one charge of conspiracy to supply firearms and was told to serve 11 years and five months.
Nico Lacroix, 23, of Frampton Crescent, Fishponds, admitted a charge of encouraging or assisting the commission of an offence. He was jailed for four months, suspended for two years.
The judge also commended the undercover officer.
Related Internet Links
The BBC is not responsible for the content of external sites.