Covid-19: Hundreds of student doctors 'on front line' fighting pandemic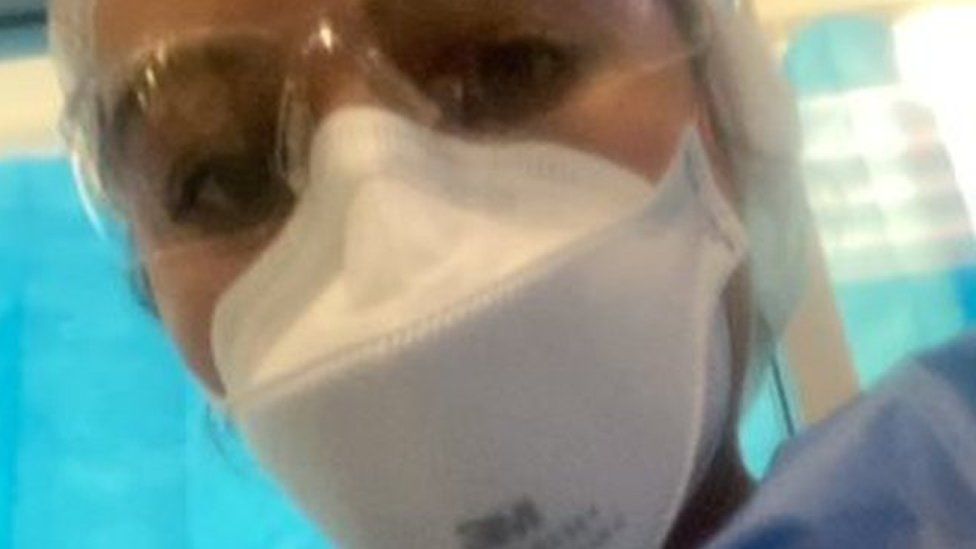 Hundreds of medical students are working to ease pressure on a city's healthcare workers during the pandemic.
The University of Bristol said 282 students in their fifth and final year were "working on the front line" to assist doctors across the south west.
One said it had been "challenging" to see someone of a similar age to him dying because of the virus.
Another said the trauma of the past year had taught her how "resilient" she can be.
Jack McAlinden, 23, is studying full-time and working on Covid wards.
He is also the president of Bristol University's medical students' society, Galenicals, which represents about 1,700 students.
"This week I saw a really moving case of a patient who was only a few years older than me and was dying of a side effect from Covid," he said.
"Seeing those things is really challenging - it reminds you of how serious the situation is", he added.
"On both fronts - on the leadership and studying side - things have been more challenging.
"But there have been opportunities that I have taken out of it. My personal development has been far more than I could ever have expected."
Abbi Bow, 20, is a second-year medical student and works as a healthcare assistant once a week on Covid and non-Covid wards at a Bristol hospital.
Her responsibilities include providing personal care for patients, such as washing them, providing them with meals and carrying out routine observations.
She said she learned how "resilient" she can be and that it will stand her in good stead when she completes her degree.
"I've gone to work and I've seen people being really unwell and I have seen people dying and have to deal with that side of things," she said.
"I have been able to understand all the challenges that I am going to face and be extra prepared when I get there," she said.
Luke Ottewell, 22, is in his final year as a medical student and has been working at Gloucester Royal Hospital.
He recently finished a stint of night shifts with its acute care response team, is currently working in the hospital's emergency department and will work in its intensive care unit later.
He said medical students were "greeted" onto wards by NHS workers in the summer and that they were "much more involved from the off" than they would have been in normal times.
Wards were "more emotionally charged" because of the pandemic and students' skills have developed more quickly because of the pressure on staff, he said.
But Mr Ottewell said students had to be aware of the severity of the situation and "the crosses that many people are bearing at the moment".
"My compassion has been brought to the front because I've had to be at the front," he said.
Related Internet Links
The BBC is not responsible for the content of external sites.