Covid: New mums ask hospitals for more support during pregnancy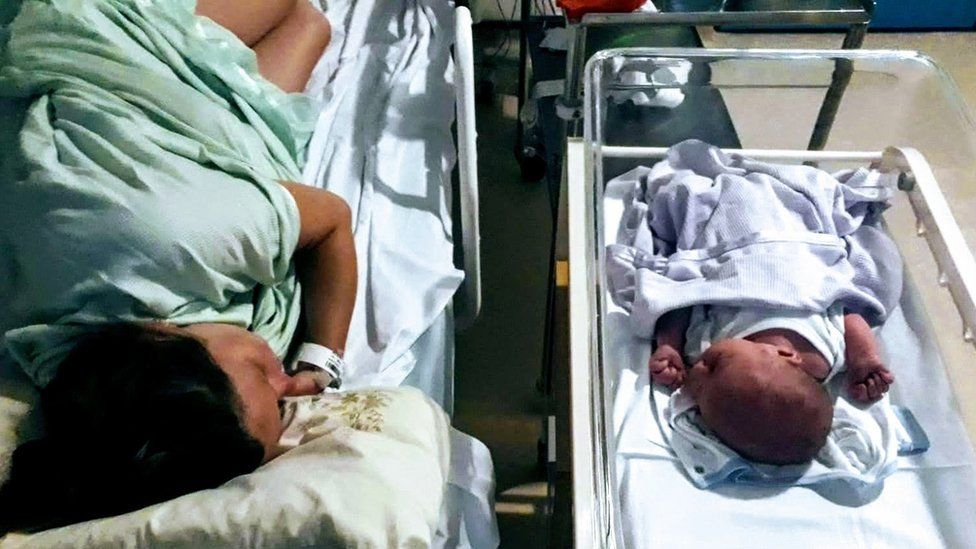 First-time mothers are calling for extra support for women experiencing pregnancy and labour in the pandemic.
The Bluebell Care Trust mental health charity has reported a 30% rise in self-referrals in lockdown.
Zoë O'Donnell is due in May and is planning a home birth after two friends shared their "traumatic experiences" of giving birth alone in hospital.
North Bristol NHS Trust said it tried to balance partners' support with protecting people from Covid-19.
Ruth Jackson, CEO of the mental health charity Bluebell Care Trust, said the rise in referrals was "inevitable considering the extra safety measures around maternity services, which we know are also very hard for the midwives who are doing their best in really challenging circumstances".
In particular many women had feelings of anxiety around the birth, she added.
"Pregnant women are concerned about their birth experience as some hospital trusts are not allowing partners to be there for the whole labour and birth," Elizabeth Duff, senior policy advisor at the National Childbirth Trust (NCT) said.
Pregnant women were also worried about contracting Covid-19 in hospital, she added.
"We're looking out for where we think restrictions could be improved for parents."
"We've also called for rapid result tests to be offered to women and their partners going in, in labour.
"We're not saying open up everything... but have some sympathy for families."
Zoë O'Donnell from Bristol is expecting her first child and said the "one-size-fits-all approach" to hospital visitor restrictions was disproportionately affecting pregnant women.
She said: "I asked the doctor at my last scan if I could have my husband on the phone as he wasn't allowed in, and was just told sternly 'no sorry, it's a medical appointment.'
"If I have another scan it would mean there was a problem with the pregnancy, but he still wouldn't be allowed to accompany me.
"It feels like someone not connected to the health system is just making the rules without actually considering the type of patients that are going through the hospital doors.
"I understand the staff are reacting to a difficult situation, but it doesn't make sense."
Mrs O'Donnell, 35, said the experiences of her two friends Jade Juckeston and Nicola, who gave birth during the pandemic, were the main reasons why she was planning a home birth.
She said: "A difficult experience is more traumatic when you're on your own, and for the partner. If you're sitting at home not knowing what the problem is, that must be really difficult."
Nicola, from Bristol, was taken to the city's Southmead Hospital with bleeding when her waters broke in June.
The 34-year-old said she was left in a brightly-lit assessment unit from 23:30 BST until 03:30 alone "with no help", waiting for the obstetrician.
'Where's the compassion?'
She said: "The hospital staff mentioned several times my husband must not enter the building. They all seemed consumed by Covid and the rules, and cared more about that than caring for me.
"I was Googling the symptoms from my bed. I was clearly making contraction noises but no-one asked if I was okay the whole time.
"The fear will stick with me forever.
"I understand restrictions are needed, but you'd think the nurses would offer extra support to a new mother experiencing bleeding during labour, to replace the support of her birth partner. Where's the compassion?"
The NCT said while it thought women were generally receiving a safe service during pregnancy and birth in lockdown, "it is pretty much no frills at the moment and some of those frills are actually not luxuries, they are something that some women really need because they haven't got friends or family about them."
North Bristol NHS Trust has apologised to Nicola who it acknowledged "did not receive the standard of care we strive to provide for women" and has subsequently spoken to her about her experience.
The hospital trust spokeswoman added: "We understand how important it is for women to have the support of their partners before, during and after birth and we have tried to balance this with the need to bring in strict rules to protect mums, babies and our staff from Covid-19."
Jade Juckeston said she believed the level of care she received following the birth of her daughter Hazel contributed to long-term problems with breastfeeding.
'Vulnerable and emotional'
The 35-year-old spent two days in Bristol's Southmead Hospital following the birth in Cossham Hospital in June 2020. Her husband was not allowed on the ward because of Covid-19 restrictions.
She said there was not enough support from the midwives and nurses when she was having trouble breastfeeding.
"As a new mother you are in a vulnerable and emotional position. I felt really lonely and I know others in the ward did too," she added.
North Bristol NHS Trust has now increased some access for partners attending maternity services with women.
A spokeswoman said: "We have updated these rules since June to try and improve access for partners while keeping everyone safe and they remain under review."
The NHS issued guidance in December asking all trust boards to "urgently complete any further action needed so partners can accompany women to all appointments and throughout birth."
This remains only guidance however and it is up to individual trusts as to how much of it is implemented.
North Bristol NHS Trust said pregnant women could now be joined by one nominated non-symptomatic partner at 12 and 20-week ultrasound scans and fetal medicine appointments.
They could also be joined by their partner for induction, labour and birth, and subsequently on postnatal inpatient wards, following a negative lateral flow test result.
The trust said the rules remained under review.