Ronnie O'Sullivan painting helps find bone marrow donor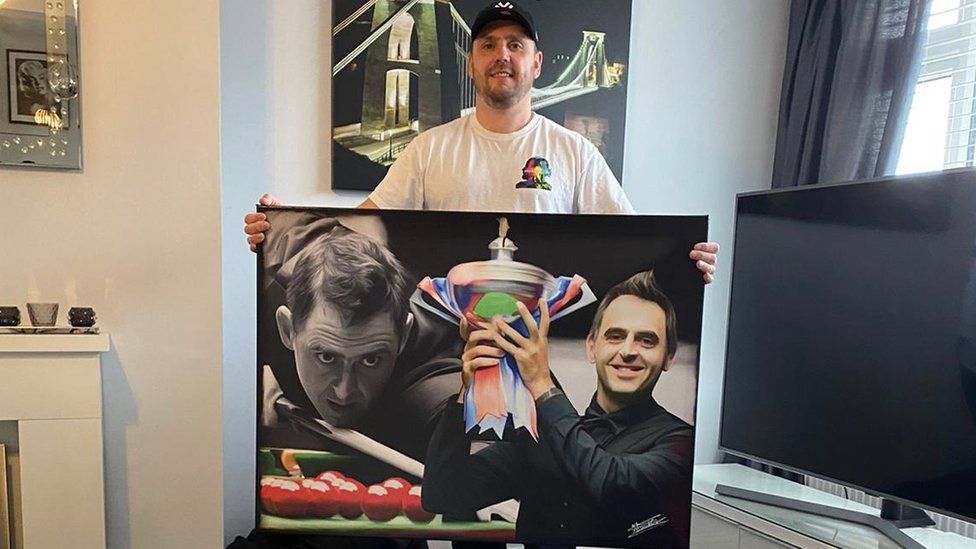 An artist's partnership with multiple world snooker champion Ronnie O'Sullivan has helped a 12-year-old girl find a life-saving donor.
John Donaldson, from Bristol, is auctioning a signed painting of the snooker star to help Libby Cott who has a rare bone marrow condition.
Publicity generated by the pair's efforts has helped raise £130,000 in donations.
Libby's auntie Lucy Tant says thanks to the funds, a donor has now been found.
Libby, from Buckhurst Hill, Essex, has aplastic anemia, a condition which leads to her body not producing enough new blood cells, making her more prone to infections.
Mr Donaldson, 40, a former painter and decorator, said his previous work for American rapper Snoop Dogg gave him the motivation to get involved in the push to find a bone marrow donor.
He said: "I'd seen the Libby's Lockdown campaign on Ronnie's social media and I thought I can help her.
"So I got in contact with Ronnie and said I can do this painting and if you sign it we can raise a lot of money."
The highest bid for the artwork currently stands at £2,500.
Mr O'Sullivan said he could tell Mr Donaldson "put his life and soul" into his painting and he was "glad" to be able to help.
He said: "It was heartbreaking to hear about Libby, who goes to the same school as my step-daughter.
"When you are a parent like me it makes you really understand what it must be like for her family."
Ms Tant said since the artist and snooker player had shared her campaign on social media, more than £130,000 had been donated.
The money was used to pay for swab kits set out by the Anthony Nolan charity to find donors, resulting in a match being found on 12 February.
Ms Tant said the help given by Mr Donaldson and Mr O'Sullivan was "incredible"
"We cant believe that John has spent 63 hours painting this for us. It alone has given us the fundraising that we needed," she said.
"Any more money raised through John's auction will now go towards helping other people find donors."