Bristol landlords hoping to call time on lockdowns
By Steve Mellen
BBC News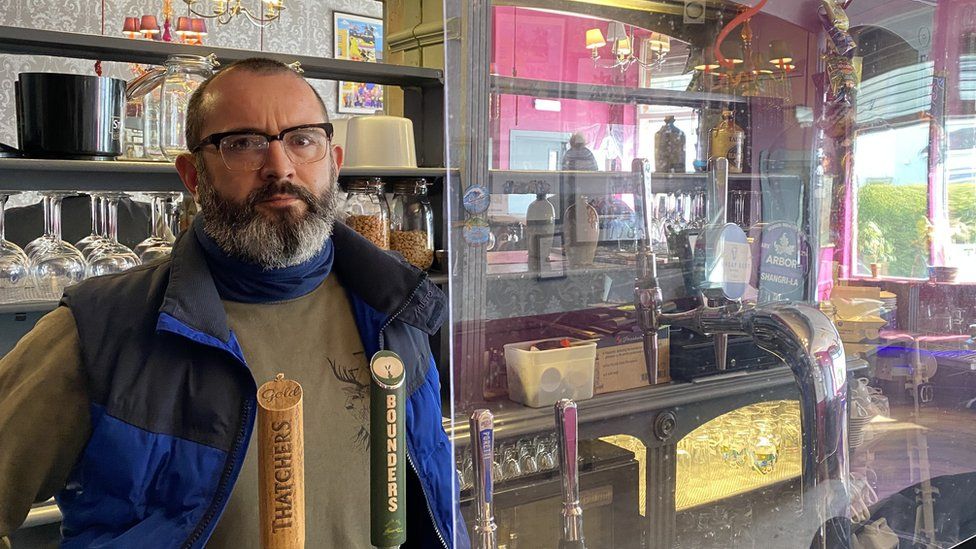 Pub landlords say it is crucial for their industry that the current Covid-19 lockdown is the last in England.
Mike Cranney and Stephen Wallace run five pubs in Bristol between them and said having to close again would be a major blow.
The Campaign for Real Ale has warned that without more government support many pubs could be "lost forever".
The Treasury said a package of measures had been put in place in the budget to support the hospitality industry.
Stephen Wallace, who is involved in running The Rising Sun, Golden Guinea and the Three Tuns, said while government measures had helped to some extent, there were plenty of outgoings that had made lockdown "worrying".
"We were able to furlough staff, which was fine, but our bills didn't stop," he said.
"Gas and electricity still needed to be paid, we still had to pay our licence fees, the bin contract still had to be paid, broadband and phone.
"Our rent costs alone add up to tens of thousands of pounds a quarter."
Despite those costs, Mr Wallace said he felt fortunate that "we have been given grants, free money, which have been fairly significant amounts.
"Have they been enough? Probably not. But there are a lot of people who have been given absolutely nothing".
He continued: "At the moment there are lots of stories about new variants. All we need is one of them to not respond to the vaccine and we're back to square one."
Mike Cranney, landlord of The Lazy Dog, said after three lockdowns he thought most of his fellow landlords were "well-drilled" in the logistics of re-opening, but he too feared the impact of further enforced closures.
"We can get going, but we have to buy stock. If we close again, you're stuck with the stock.
"Then we'd have to go back into things like the furlough scheme and close everything down again.
"I think everybody is in the same boat. The assistance [from the government] is just about getting us through but still, we're losing £1,000 a week."
Richard Brooks, chairman of the Bristol & District Campaign for Real Ale (CAMRA) said landlords needed "fair treatment and certainty".
"I fully support vaccination and the appropriate use of lockdown and social distancing to get the Covid-19 situation under control," he said.
"But some of the rules previously introduced for pubs have seemed unreasonable," he said citing the restriction on selling take-away alcohol this lockdown.
A Treasury spokesman said: "Pubs can benefit from the 15-month business rates holiday for hospitality business, restart grants worth up to £18,000 as they reopen, a VAT cut, and the extension of the furlough scheme until September.
"That's on top of grants worth up to £18,000 to support them in the current lockdown, additional £1,000 grants for wet-led pubs (bars exclusively serving drinks), the Eat Out to Help Out scheme, and VAT deferrals."