Hartcliffe bus service hit by rocks as driver racially abused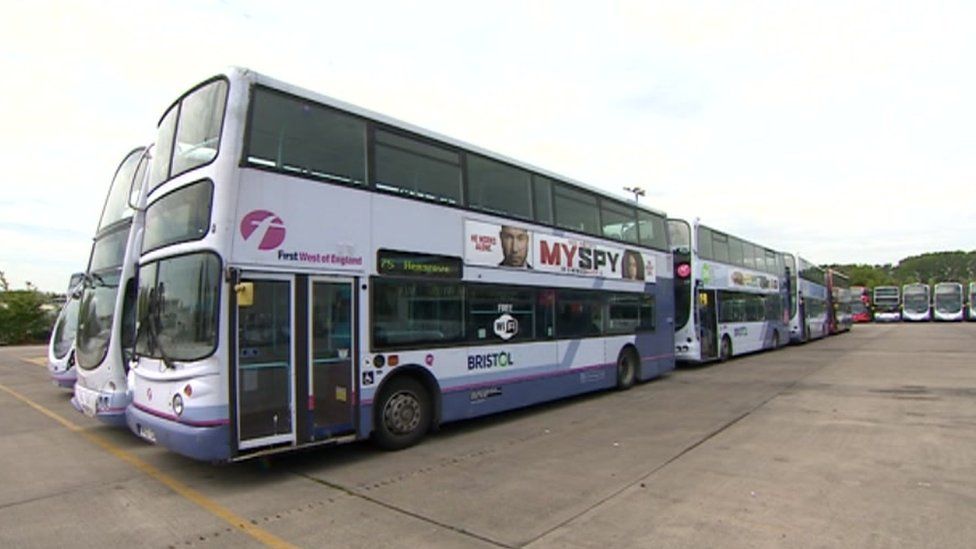 First Bus has warned it could stop running one of its services after rocks were thrown at bus windows and a driver was racially abused.
In the past week, the company has had five windows damaged, resulting in the service 76 being temporarily pulled from Hareclive Road in Hartcliffe.
Avon and Somerset Police said it has identified two boys, both aged 13, who will be formally interviewed.
Chris Hanson, from First Bus, said they have "zero tolerance" for racial abuse.
The police force confirmed it is investigating eight incidents of buses, bus stops and taxis being damaged in Hartcliffe on 10 and 11 March.
A spokesperson added: "A witness also contacted police...to report a bus driver being subjected to racist abuse after challenging the teenagers.
"This abuse has not been reported to police directly by the company or the driver and officers are liaising with First Bus to identify and speak to the driver involved."
First Bus said the Bristol service - which is currently running - was temporarily pulled from part of the route three times in the past two weeks.
A spokeswoman said that if the attacks continue they would sadly have to consider a more permanent suspension.
"Unfortunately vandalism is becoming an increasing problem that we cannot allow to continue," operations manager, Mr Hanson, added.
"It is threatening the safety of our staff and customers and putting our drivers under a huge amount of pressure.
"We have a zero tolerance policy for any form of racial abuse directed at our staff."
Mr Hanson said that it is "a real shame that a minority are intent on disrupting a service that is vital to many in the local community".
First Bus are also working with Bristol City Council's crime prevention unit to look at ways in which this issue can be urgently addressed.
Police officers are also patrolling the area which will include having a uniformed presence on the buses.
Related Internet Links
The BBC is not responsible for the content of external sites.