Bristol school changes logo to remove Edward Colston link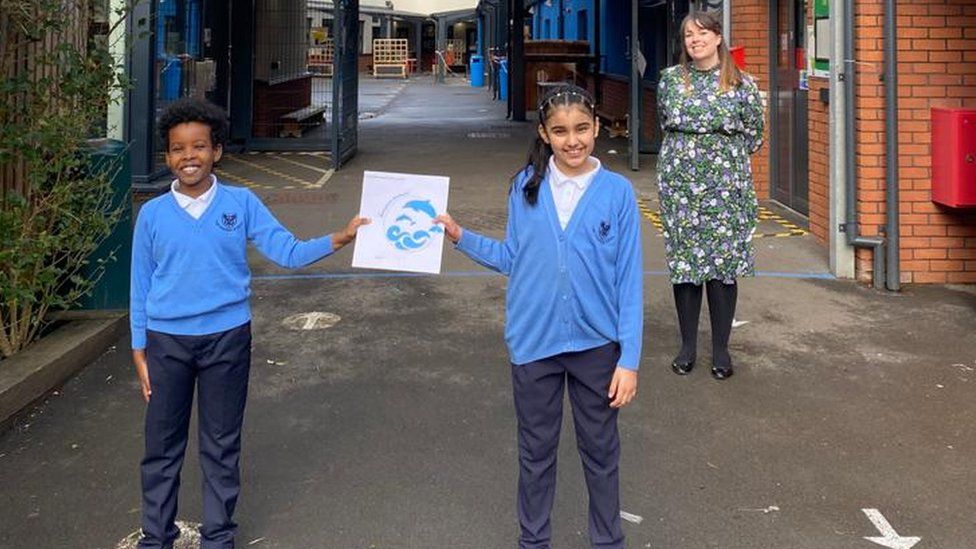 A school which voted to change its logo due to similarities with the family crest of slave trader Edward Colston has revealed its new design.
The Dolphin School in Montpelier, Bristol, said it will retain its name despite it being inspired by the animal featured on the Colston crest.
The school said the logo "allows us to move forwards with a clear identity".
A public consultation was launched in September after the school community voted to replace its original emblem as it echoed the Colston family crest.
The school said the logo had been developed in collaboration with pupils and artist Michele Curtis.
She said pupils wanted more one that one dolphin in the logo because the animals "live in pods to support each other, just as the members of The Dolphin School community support each other".
Its circular shape also represents "our global community and the waves represent the diversity found in our oceans, reflecting the diversity of the school community where 46 different languages are spoken".
Vice principal Kate Jenkins said: "The children loved working with Michele on the design process and they were brilliant at articulating their ideas and justifying their opinions.
"Our new dolphin emblem represents the curious, intelligent and responsible nature of our diverse school community."
The school, which opened in September 2012, gave pupils and other people connected to it four different designs to choose from.
It will be installed throughout the school and across all uniforms from September.
Related Internet Links
The BBC is not responsible for the content of external sites.