Paralysed rower aiming for Paralympics after British Rowing selection
By Aleisha Scott
Reporter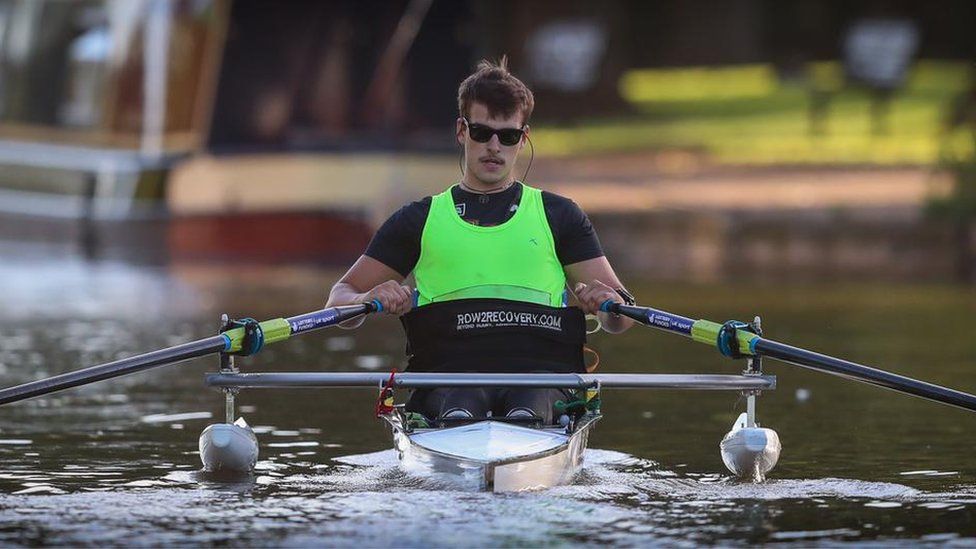 A student paralysed after falling from a tree hopes to embark on a Paralympic rowing career after being selected for British Rowing's talent programme.
Xander Van Der Poll, 22, was the first disabled rower to join the University of Bristol Rowing Club.
He suffered a spinal injury in the fall near his parent's house in 2018.
The club has raised £4,000 for an adapted boat after he was selected for British Rowing's para-rowing talent identification programme.
Mr Van Der Poll started rowing last year and hopes to compete in the 2024 or 2028 Paralympics.
The third-year medical student said: "After the accident I was in a bad place but this has shown me that if you want to do something, just go for it."
The university rowing club now wants to develop a south west para-rowing centre, based in Saltford, near Bath, by investing in more facilities and adaptations for rowers with disabilities.
Mr Van Der Poll, who started rowing with Stratford rowing club whilst at home with his family in Coventry, can continue training now he's back at university in Bristol.
He said: "Sport has been a huge blessing for me in terms of dealing with the changes in my life - going from walking to being in a wheelchair has been a smoother transition because para-sport has opened up new horizons, being a para-athlete changes your mindset and your view of disability.
"I really appreciate the club saw a need and are taking it forward, its great to see people inspired to want to help para-sport grow. Closing that gap and making sport more accessible is what will change attitudes."
Lexi Bothamley-Dakin, a history student and fundraising officer for the rowing club, said they raised £2,000 through raffles with a further £2,000 Rowing Foundation grant.
She said: "Rowing is a tough sport mentally and physically but it's not accessible for many groups of people so we want to change that.
"With Xander joining we realised we can reach out to a wider audience, we want to build a stronger place for disability rowing in the south west.
"It's incredibly exciting to think we could see Xander at the Paralympics and to think we've had a positive impact on his journey to achieve that dream."
Related Internet Links
The BBC is not responsible for the content of external sites.