Bristol community street art scheme brightens up viaduct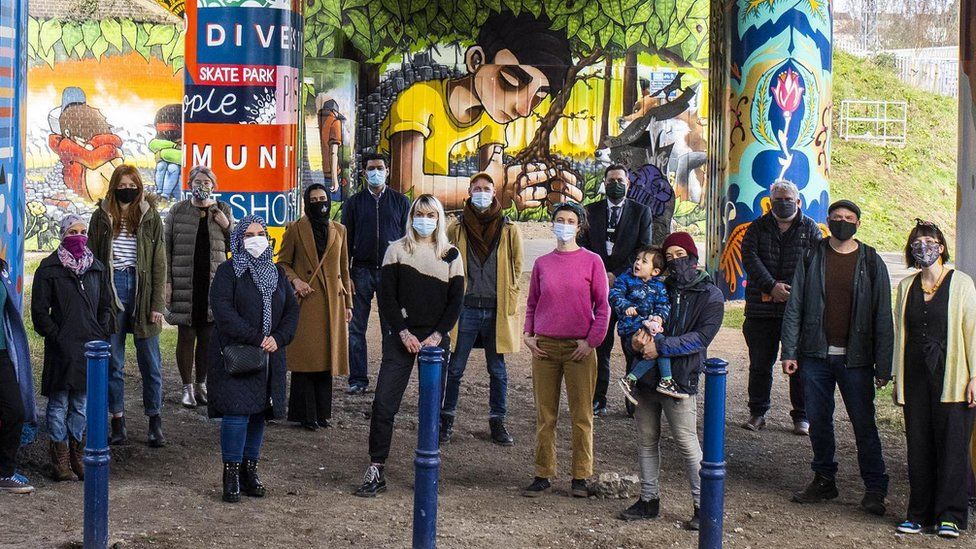 Graffiti artists have transformed a railway viaduct with a range of colourful and vibrant designs.
Fox Park viaduct in Easton, Bristol, has been brightened-up by local artists Peace of Art, Silent Hobo, Graft, Anna Higgie, Dave Bain and Zoe Power.
Network Rail and Severnside Community Rail Partnership were behind the project which took two weeks to finish.
Aumairah Hassan, of Peace of Art, said: "Our mural was based around the voice of the community."
"Though most of us live locally and are part of the Easton community, we didn't want to assume anything so we created a survey for locals to take part in so that we could genuinely reflect their voices and favourite things about the area through our artwork," she added.
The project was launched as part of Network Rail initiative called Project Sprint, which aims to improve the condition and appearance of railway lines across the south west.
Each piece of art is focused around a different theme, including sustainable travel and providing communities with a voice.
Sophie and Rob Wheeler from Graft, which also worked on the designs, said they hoped it would give the area a "new lease of life".
"It's been a fantastic project to work on, and it's been incredible seeing how the area has been transformed by the artists, all working in different styles and media.
"We're hopeful this will be the start of a new lease of life for Fox Park, with ideas for community planting schemes, art markets and a summer festival being discussed," Ms Wheeler said.
"The local artists have made a huge difference to the local area and the brightly coloured artwork reflects the true style of Easton and the wider Bristol community," said Steve Melanophy, Network Rail's community safety manager.
Faye Keane, from Severnside Community Rail Partnership, said they were "delighted" with the outcome.
Related Internet Links
The BBC is not responsible for the content of external sites.