Paramedic's car vandalised in Bristol ambulance car park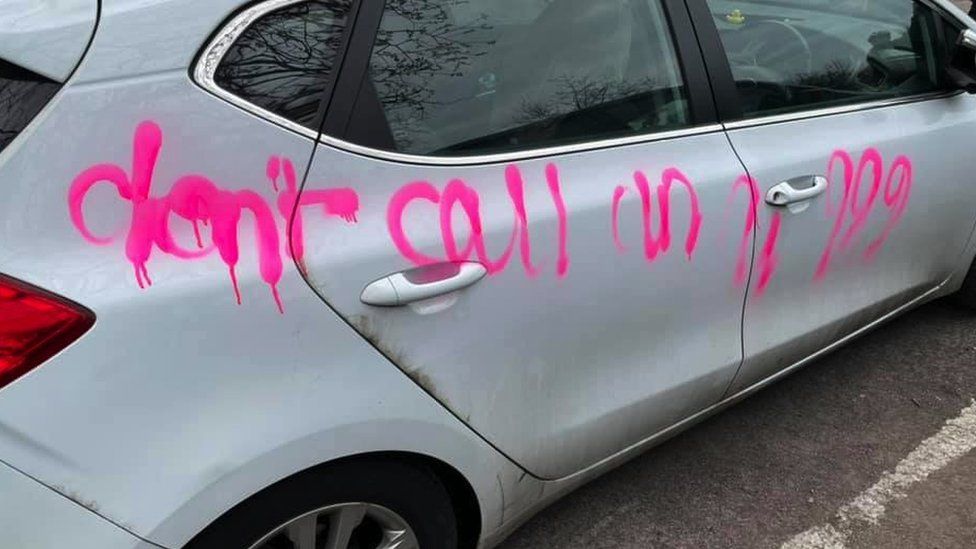 A paramedic finished a 12-hour night shift to find her car daubed in graffiti saying "don't call 999".
Vandals spray painted Bronwen Newbury's vehicle while it was parked at her Bristol base at the weekend.
She said she was "angry that people think so little of us".
The vehicle has been repaired for free after she put photos of the graffiti on Facebook. South Western Ambulance Service said the attack was "unacceptable".
It happened outside Soundwell Ambulance Station while Ms Newbury, from Caerphilly, was on shift overnight on Saturday into the early hours of Sunday.
She said it left her "in shock, teary, and angry", and questioning her job.
"Twelve-hour shifts can be difficult anyway...but I'm trying to do something for the community, so coming back to that was so disappointing...I felt 'what's the point in doing this?"
After sharing the photos of her car on Facebook, Ms Newbury said she had 60-70 offers of help and support. A company in Bristol has removed the graffiti for free.
"It has restored my faith in humanity," Ms Newbury said.
A South Western Ambulance Service NHS Foundation Trust (SWASFT) spokesperson added: "Sadly our people are victim to unacceptable behaviour from a minority every day while they are serving the communities of the South West and saving lives.
"Any such incident can have a lasting impact on them, their loved ones, and other colleagues."
Related Internet Links
The BBC is not responsible for the content of external sites.