Bristol protests: Chief constable defends use of force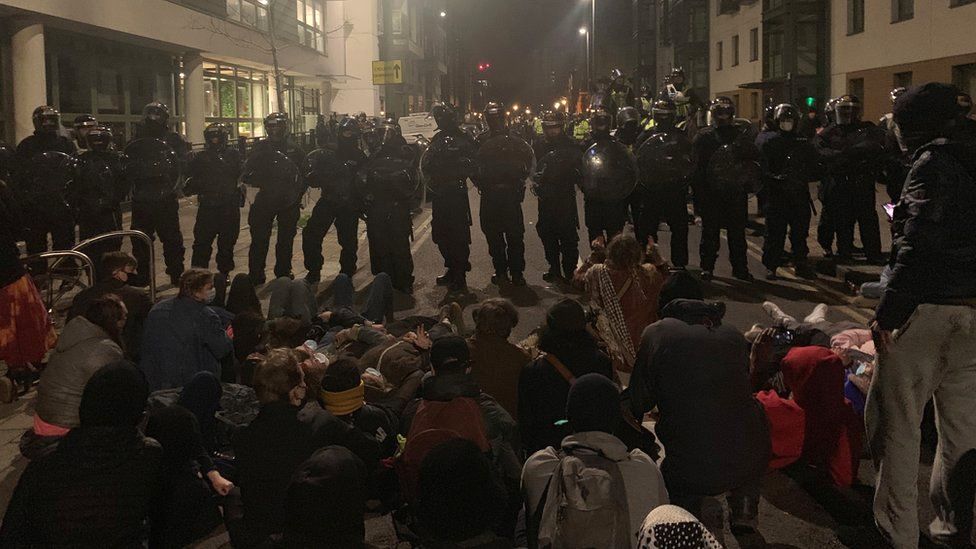 A second night of protests in Bristol was "more like a party" before it was shut down, a police chief said.
On Tuesday, 14 people were arrested after a crowd opposed to the government's new Police and Crime Bill gathered at Bristol's College Green.
But Avon and Somerset Police admitted injuries to some officers were not as bad as first claimed.
Chief Constable Andy Marsh said a minority of the crowd had wanted a confrontation.
Speaking at a press conference earlier, Mr Marsh said officers had pleaded with the protesters to disperse "over many hours" through the afternoon and evening.
"It was our duty, based on the situation with the pandemic and infections, to prevent a risk," he said.
"It is what our communities expect us to do.
"There were tents being put up, amplified music, glasses and bottles being passed around.
"It had all the makings of a rave or a party rather than a protest."
Protesters said they were unhappy about an element of the Police and Crime Bill, which would ban residing on any private or public land in vehicles without permission where they are causing "significant disruption, distress or harm to local communities".
Mr Marsh also said reports that officers had suffered broken bones on Sunday and that one had sustained a punctured lung, were not true.
A force statement said the chief constable had spoken to injured officers and when he addressed the media on Monday, believed some injuries to be more serious than they were.
"We clarified the extent of injuries proactively in our official media update this morning to be as transparent as possible," the statement said, adding the officer suspected to have had a punctured lung still required hospital treatment and a CT scan.
The number of officers assaulted on Sunday had risen from 21 to 40, with one journalist also attacked, it added.
Journalist Martin Booth, who attended Tuesday's protest for the Bristol 24/7 website, said he believed police had been "quite heavy-handed" against protesters.
"Some of them were sitting down as the police waded in and it was quite shocking to see," he said.
"These protesters may have been there against the law but they were not spoiling for any fight, from my perspective."
Related Internet Links
The BBC is not responsible for the content of external sites.