Kill the Bill: Bristol protesters gather at police station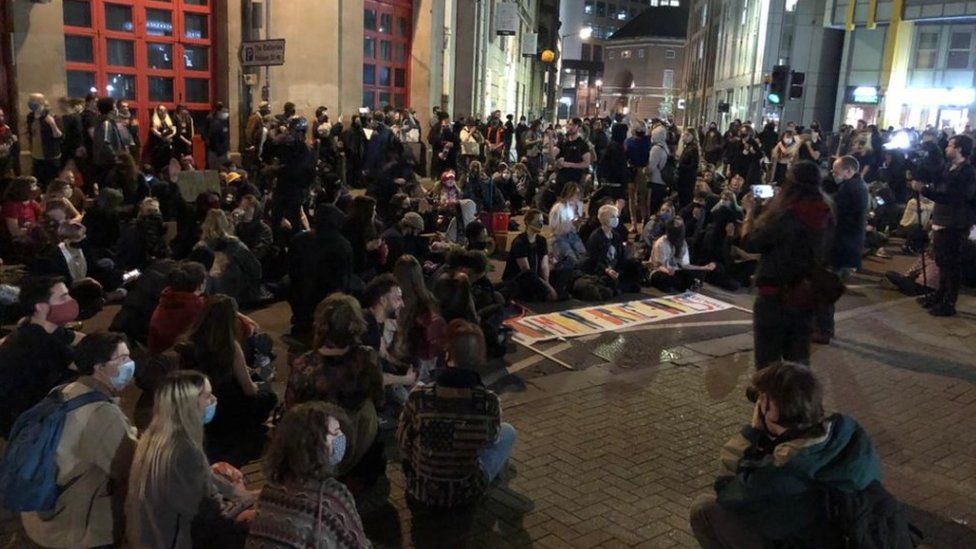 Protesters marched through Bristol as part of another demonstration against the Police and Crime Bill.
Avon and Somerset Police said about 100 people had gathered on College Green by about 19:00 BST rising to 150 by 20:10.
Several hundred protesters then marched through the city centre before heading back towards Bridewell Police station at about 21:30.
A sit-down protest took place at the station which was boarded up following violent scenes at the 21 March protest.
Supt Mark Runacres of Avon and Somerset Police said the force deployed police liaison officers at College Green "to try and develop that communication" with protesters.
"They established some communication which has been really helpful and again thanks to those who have assisted us with that," he said.
"That's what we look to encourage in advance of any future protest events, particularly Saturday to get in touch with us in advance so that we can discuss things like the protest route, the timings the duration and the end point.
"That really helps us to assist and facilitate the protest."
Earlier at College Green, protesters cheered a speech by organisers explaining their concerns about the new legislation which is making its way through Parliament.
At about 20:30 people started leaving and marched towards the city centre chanting "our streets".
A small number of uniformed police officers walked in front of a large group of protesters who headed past Bridewell Police station towards Broadmead.
They then marched towards the Bearpit roundabout before looping back on themselves and returning to the city centre.
During the march there was a low police presence.
It is the fourth such protest in the city centre and the first to be held under new rules for lockdown easing.
At the scene: BBC reporter Scott Ellis
A good 300 to 400 people were at College Green where people said that if police kept away and did not intervene the protest would remain peaceful, and it was good-natured.
I saw the Dean of the Cathedral walking by and she was more than happy as it's her land.
The protesters set off on a march through Bristol, down past Bridewell Police station where I saw riot police. They went past the boarded building, to Baldwin Street then along James Barton Street.
The protesters had a sit down at the Holiday Inn and now they're sitting outside Bridewell Police station and are currently blocking the road.
They've told me that they're pleased that police haven't rounded them up and let them protest. There are about 150 to 200 of them with some standing in a row towards the back.
The atmosphere is still peaceful with police officers in normal uniform. The march was a bit leaderless at times, with some going off in a few wrong directions.
One speaker who addressed the crowd just before 19:00 said: "The bill curtails the right to roam," and that it placed further criminalisation on the traveller community "that are already harassed by police and subject to racism".
The second speech ended with a rallying cry for peace.
"The only way to do something about this is by pushing the message of peace. So please, everybody, keep it peaceful today."
On Monday, Avon and Somerset Police asked organisers to "engage" with officers to ensure the event did not breach Covid-19 regulations on public protests.
Related Internet Links
The BBC is not responsible for the content of external sites.