Cyclists Beaumont and Thomas praise Bristol boy's Everest cycle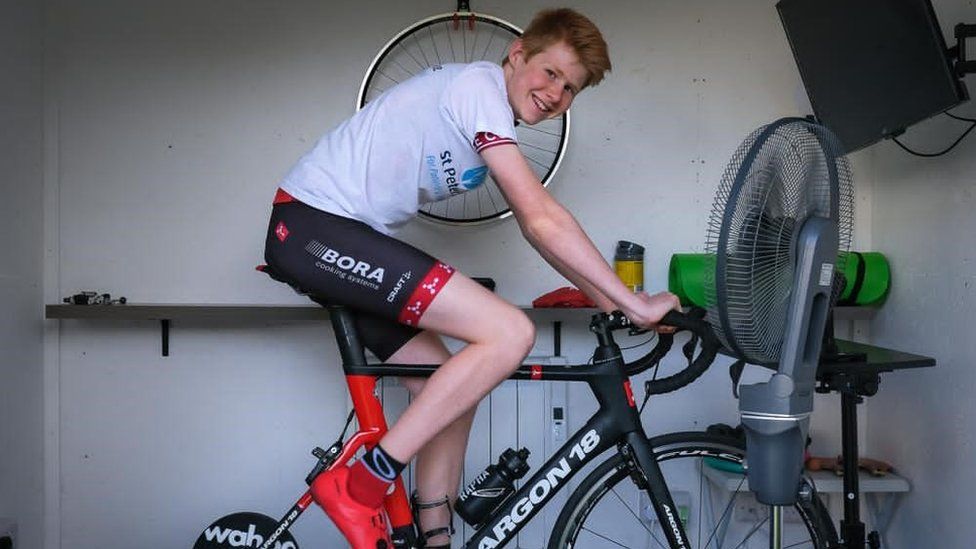 British cycling stars have sent messages of support to a boy who is embarking on a virtual ride to the top of Everest to raise money for charity.
Theo Hester, 13, decided to fundraise for St Peter's Hospice in Bristol after hearing about their financial struggles during the Covid-19 pandemic.
He will attempt to virtually cycle 8,848m (29,029ft) on Saturday in a challenge lasting 15-16 hours.
Mark Beaumont and Geraint Thomas have recorded videos to spur him on.
The hospice described Theo as a "total inspiration."
Theo, from Stoke Bishop, is taking on a challenge called Everesting or, "vEveresting", which uses an app called Zwift to cycle the height of the mountain on a turbo trainer bike.
So far he has raised £5,000 but hopes to reach £8,848, which would be one pound for every metre cycled.
His mother Fiona Hester has been a volunteer at the hospice for three years and said she was really proud of him.
"I told Theo that the hospital had been struggling and that it had lost a lot of money last year during the pandemic, so he really wanted to take on this challenge and do what he could," she said.
"Theo aspires to be a professional cyclist. He is super motivated and determined to do this, I think I'm carrying more anxiety about it than he is."
She reached out to Mark Beaumont and Geraint Thomas letting them know about Theo's challenge and was shocked when they both replied with a video message of support.
In the message, Mark Beaumont said: "I heard about your amazing virtual Everesting challenge happening pretty soon and I wanted to wish you the best.
"Doing an Everesting is hard, hard, hard, let alone doing it virtually.
"The mental side of that will be as tough as the physical side.
"You're 13 and I'm not sure I could have done that when I was 13."
Geraint Thomas said in his video message: "Massive challenge but great to see you doing something for a very worthy cause.
"Just wanted to say massive respect and good luck mate."
Mrs Hester said Theo could not believe the messages, adding: "They are his absolute heroes, he reveres them."
Johnny Flanagan, from St Peter's Hospice, said: "We sadly had to close five of our beds last year. All the fundraising events just went away."
He said it had been a blessing having volunteers like Mrs Hester and Ms Dennett and described Theo as a "total inspiration."
"Theo is doing brilliantly, and it's not just the money, this kind of thing inspires other people to do other things," he said.
"We've since had other people offer to do walks etc. so it has generated more interest."
Related Internet Links
The BBC is not responsible for the content of external sites.