Covid: Pubs reopening but some 'may not survive'
By Aleisha Scott
Reporter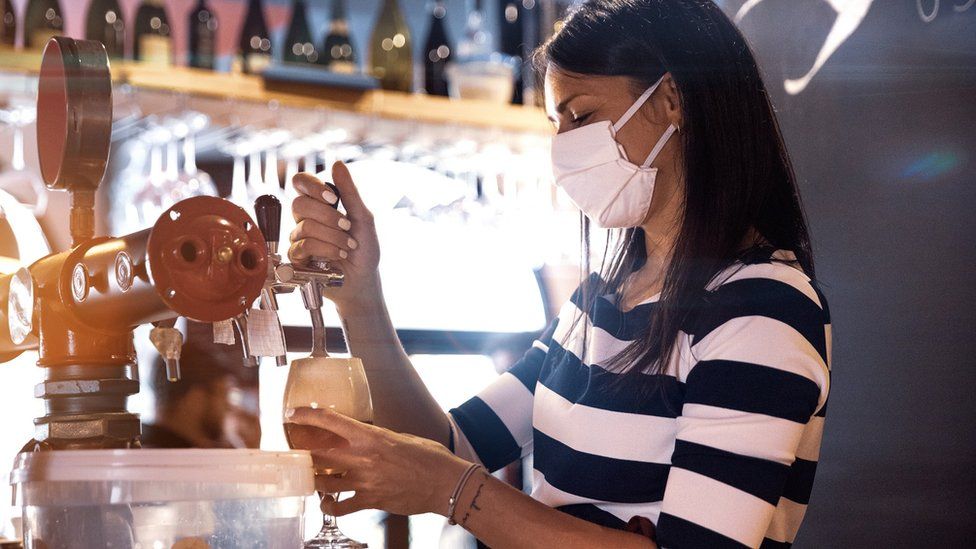 The head of a pub chain says he fears for some in the industry despite hospitality venues being able to reopen.
From Monday pubs and restaurants can open with customers ordering food and drink while remaining seated outside.
But managing director of the Bath Pub Company Joe Cussens said: "Every pub has had to take on a mountain of debt."
One landlord said Covid was "the nail in the coffin" for his business.
"It's impossible to not have borrowed some money," said Mr Cussens.
"Some pubs will not survive. Pubs that were on the edge before Covid will not think it's worth reopening - this will have accelerated their demise.
"The market will come out strongly but there will be some casualties."
His company has been refitting the four pubs it operates around Bath with outside bars and seating areas in preparation for outdoor dining.
"People are desperate to come back. We've been getting our pubs ready," he said.
"It's expensive and a lot of work. We are spending now hoping we will recoup over the summer," he said.
"Lots of challenges, restrictions and social distancing makes operating tricky so mid-June is what we're waiting for, but there is still uncertainty over that.
"Running a pub - you're always faced with challenges so we are battled-hardened but we will get through it."
Graham Anderson and Sharon Stanton decided not to reopen one of their two pubs in Bristol - the Eastfield Inn, in Henleaze, which they ran for nine years.
"It was personal as the Eastfield was my first business on my own and for a long time we kept it going because of the emotional attachment," said Mr Anderson.
"It's a big part of your life so you don't look at the figures as you should. It's personal which perhaps clouds your judgement.
"From our customers' point of view it's hard to believe because we had the footfall, but the costs were astronomical and there's a fine margin of error."
"Covid was the nail in the coffin."
He added that they were considering the pub's future before the first lockdown which proved to be the confirmation they needed to close.
"Government grants and loans are a life-line but they wouldn't scratch the surface," he said.
Mr Anderson is now focussing on the Crafty Cow pub in Horfield, Bristol, where they have transformed the garden with covered seating.
He added: "The nature of people in the industry is they don't want to give up - you're providing a service to the community and we don't want to let people down.
"Everyone is desperate to go out and support pubs, but the next year will be an interesting time for the trade. Reopening is the first stage. It won't mean survival for many."
Chief executive of the British Beer and Pub Association Emma McClarkin said local "wet-led pubs" - which only serve drinks - are the most vulnerable.
She added: "It's estimated that 2,000 pubs have been lost forever, and 2.1 billion pints in beer sales have also been missed, wiping out £8.2bn in trade value from the sector.
"We still haven't seen the full extent of the damage yet and won't do for some time until things really do go back to normal."
Miles Connolly and Lotte Lyster have run the Prince Albert in Rodborough Hill, Stroud, for 25 years - a pub well-known locally for its live music.
A crowdfunder set up last year to support the pub through lockdown closures has raised more than £12,000 as part of a national initiative launched by the Music Venue Trust to prevent the closure of hundreds of independent music venues.
Ms Lyster says they started offering food for the first time via takeaway over lockdown as an income stream because their live music gigs are on hold.
"Every day has been a massive rollercoaster, but you have to be positive. If we weren't, we wouldn't still be here," she said.
"We're at the bottom of our coppers and when the next government grant comes in that will go on buying stock and garden furniture.
"We know it's going to be a long road and people think it will be the best summer ever but we take each week as it comes.
"We're booking in gigs for the autumn and winter. I hope we don't have to cancel.
"But when we do music again we are going to come back jumping up and down with sweat dripping off the ceiling - we will still be here singing and dancing."
Related Internet Links
The BBC is not responsible for the content of external sites.