Bedminster: Appeal over 'Trump's wall' tower blocks rejection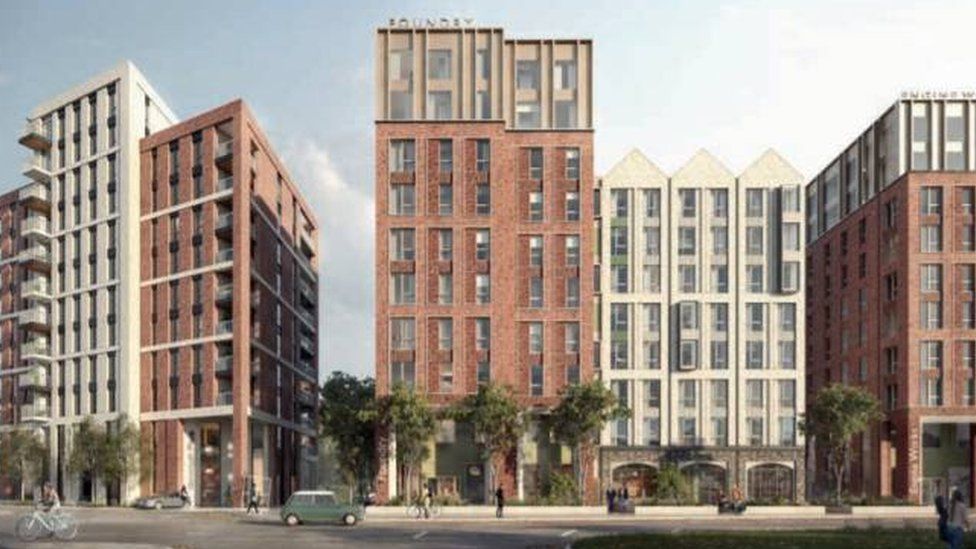 An appeal against rejected plans for a row of seven tower blocks, likened to 'Trump's Wall', has been dismissed by a planning inspector.
A2Dominion had been seeking to overturn Bristol City Council's decision to refuse its plans for the high-rise blocks, in Malago Road, Bedminster.
The council had concerns about the size of the buildings which would have been between eight and 12-storeys high.
The developer had said the scheme would "form a positive vision" for the area.
However, the Planning Inspectorate backed the council's decision and dismissed the appeal in a ruling published on 1 April.
Planning inspector Jonathon Parsons said although the application would provide a boost to student accommodation and "contribute positively" to affordable housing, "there would be harm to the character and appearance of the area".
He added: "The developments would not function well, add to the overall quality of the area or be sympathetic to local character.
"Consequently, the adverse impacts of granting planning permission would significantly and demonstrably outweigh the benefits."
The tallest high-rise, containing 550 student flats and 40 affordable homes, was to be the first of five key sites to get under way in a huge regeneration of Bedminster Green.
Developer A2Dominion worked with Bristol City Council and the University of Bristol to develop the housing scheme but more than 100 people objected to the plans, describing the row of tower blocks as like "Trump's wall being erected".
Nick Townsend, from the Windmill Hill and Malago Community Planning Group, described the "awful application" as a "real turkey" and planning committee councillors labelled it "not a quality scheme" as it was rejected by seven votes to three.
Related Internet Links
The BBC is not responsible for the content of external sites.