Bristol Downs: campaigners delighted with car park decision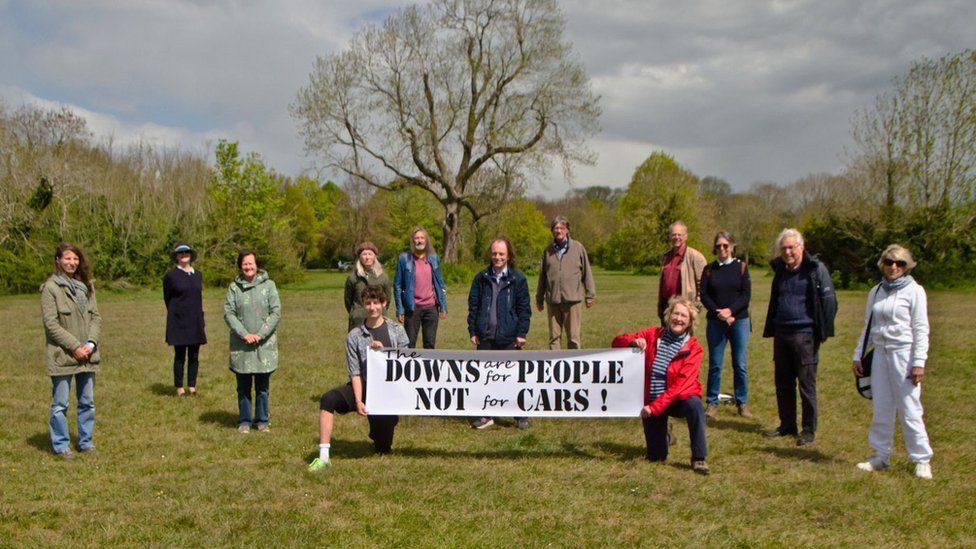 Campaigners are "delighted" after their battle to prevent cars being parked on Bristol's Downs for events being held elsewhere, was successful.
Downs for People (DfP) has been trying to stop Bristol Zoo from being able to use part of the land as overflow parking since 1996.
An out-of-court settlement to stop the area being used for parking for non-Downs events has now been made.
DfP said that ruling will take full-effect from the end of 2023.
The Downs Committee and Bristol City Council agreed the settlement, which includes paying up to £72,000 of DfP's legal fees.
Susan Carter, of the DfP, said: "We are delighted with this outcome but dismayed that we have had to go to court to achieve it.
"The Downs Committee has a duty under the 1861 Downs Act to keep the Downs 'open and unenclosed' for the people of Bristol to enjoy.
"It was obvious to us that land roped off for use by more than 600 zoo visitors' cars was not 'open and unenclosed', nor available for recreation."
Under the agreement, Bristol Zoo cancontinue to use land off Ladies Mile for parking until 1 October 2022 and the North Car Park outside its main entrance until the end of 2023.
Bristol Zoo is moving to a new home at its Wild Place Project site, near junction 17 of the M5 in South Gloucestershire, set to reopen there in 2024.
Dr Justin Morris, Chief Executive, Bristol Zoological Society, said he was "very pleased" a settlement had been made.
"This means our visitors can continue using the North Car Park, as has been the case since the 1930s, along with using a small area of Ladies Mile on our busiest days, as has been done since the 1960s."
A Bristol City Council spokesperson added: "Bristol City Council, through the Downs Committee, has always managed the Downs sustainably and in line with the Downs Act to enable the people of Bristol to enjoy the Downs."
Related Internet Links
The BBC is not responsible for the content of external sites.