Bristol Beacon: New pictures show £107m refit progress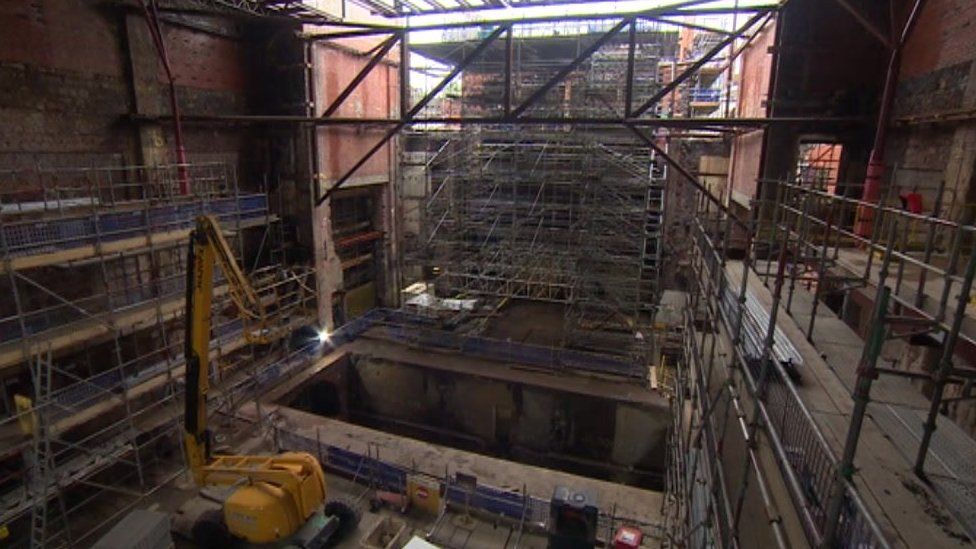 New pictures from inside the Bristol Beacon show the progress being made as it undergoes a £107m refit.
The price has doubled and its opening has been frequently delayed.
Refurbishment work found asbestos in its roof - which has now been fully replaced - and columns that turned out to be hollow.
Bristol City Council owns the building and it is run by the Bristol Music Trust.
Mr Rees said the "only other course of action" other than paying for the refurbishment would be to "end up with an empty building in the middle of the city.
"I don't think that's a viable course of action for Bristol to have a venue just sat here empty. Remember, it couldn't stay open because it was unsafe."
Richard David, of Willmott Dixon, which is undertaking the works, said: "You can't get into the structure and find out where the problems are until the venue's closed.
"When the venue closed we peeled back the layers of the onion, if you like, and that's what started to reveal some of the horror stories that were hidden in the existing fabric of the building.
"A huge amount of work has had to go back into restoring the walls to get the structure back into a position that's safe for 2,000 people to be in here dancing and swaying to music."
The Beatles, David Bowie, Elton John, Ella Fitzgerald and Louis Armstrong all performed at the then Colston Hall.
Louise Mitchell, Bristol Music Trust, said the building was found to be "significantly more fragile than we'd allowed for".
"You can't rush it, we need to do it properly and way, way back the trustees took the decision that we were going to do this properly and it's been hard, it's been a long, complex road but it'll be worth it in 2023. I'm pretty sure we'll be there."
Related Internet Links
The BBC is not responsible for the content of external sites.