Bristol Six Sisters street art project completed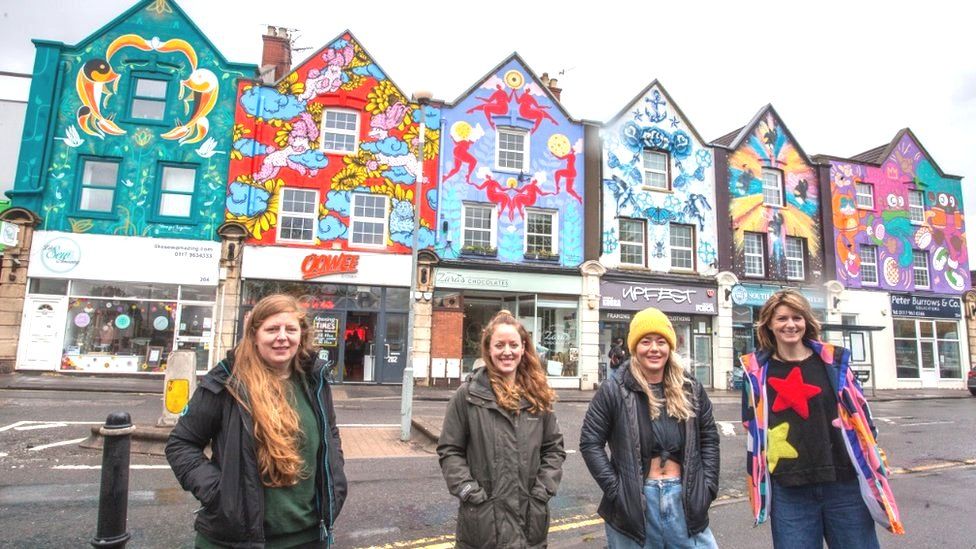 A row of shops in Bristol has been transformed into a kaleidoscopic showcase by a group of female street artists.
Six local artists were each given space above a storefront in the Bedminster area of the city to create intricate murals in their signature style.
The final pieces, by Lucas Antics and Ejits, were unveiled this week.
Six Sisters started at Upfest 2016 when the first mural was created by Bristol-based artist Gemma Compton.
Festival founder Stephen Hayles decided to continue the series with works by Zoe Power, Bex Glover and Sophie Long.
Ejits, real name Emily J Taylor, has since added her design, inspired by American animation and Japanese character design.
While Lucas Antics' graphic novel-style work, a familiar sight in other parts of the city, was also added to complete the set.
The project was a partnership between street art festival Upfest, and Bedminster's local Business Improvement District (BID).
BID chairman Simon Dicken said the artwork would be a "huge draw" for visitors to the area.
"Bedminster is world renowned for its street art and we're lucky to have some of the biggest and best artists and artwork right here on our doorstep.
"It is incredibly fitting that, as our high streets and hospitality industry re-open, we can welcome people back to the streets of Bedminster with some incredible new colour and creativity."
Related Internet Links
The BBC is not responsible for the content of external sites.