Women's urinal six times quicker to use, creators say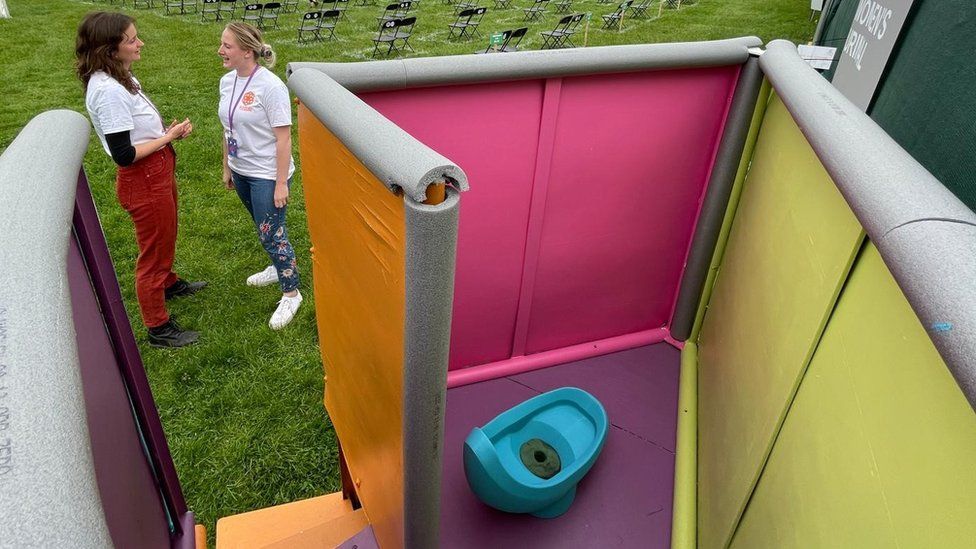 A women's urinal has been created by two ex-University of Bristol students, which they claimed was six times quicker to use than a conventional loo.
Amber Probyn and Hazel McShane designed the hands-free Peequal because they were fed up with long queues for the ladies toilets at festivals.
"No funnels are involved and it's semi-private, you can't see anything from the waist down," said Ms McShane.
A prototype is being trialled at the Bristol Comedy Garden at the weekend.
The pair, who graduated in 2020, said they had spent many summers working at musical festivals in the UK.
"In our breaks we had to choose between going to the loo or getting food, because the queues for the ladies were just insane," said Ms McShane, who studied physics with innovation.
"So for our masters project, we were asked to solve a real life problem and we knew straight away what we wanted to do."
They talked to more than 2,000 women in focus groups and pubs around Bristol, then came up with their "queue busting" urinal.
"It's actually an adaptation of a hole in the ground toilet but it's what we call the pedestal," said Ms McShane.
"It's designed like a boat to minimise splash back and also to have a little place for your clothing in front."
Ms Probyn, an anthropology with innovation graduate, said the "age-old problem" of toilet queues was "wasting hours of women's lives".
"We realise this is a shift in behaviour but it's a more efficient way of doing things," she said.
"At the start of the day you might look at this woman's urinal and be like 'I'm not sure about that' but after a few bevs, and after you've waited in the queue for about 15 minutes already - this option suddenly becomes much more appealing."
Related Internet Links
The BBC is not responsible for the content of external sites.