Edward Colston: Virtual statues appear on slave trader's plinth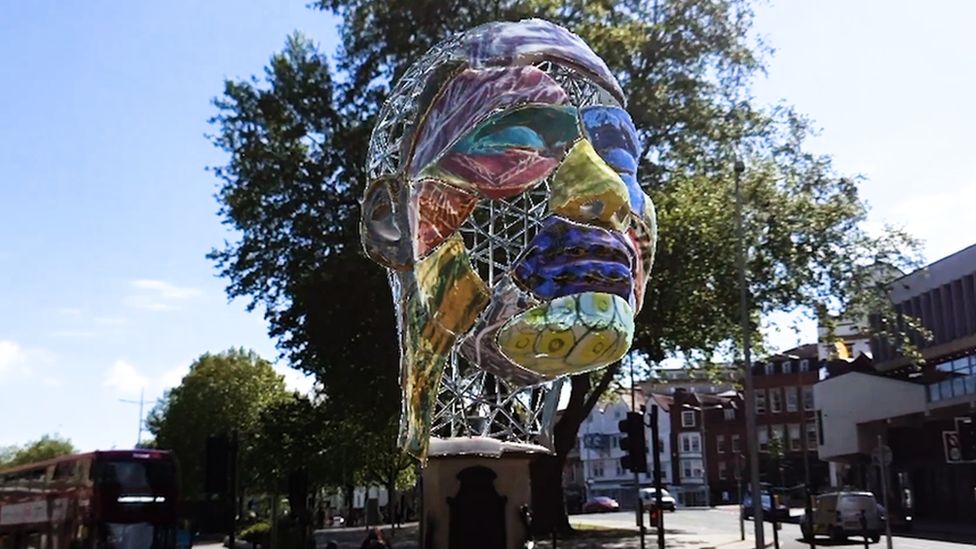 A year since the statue of Edward Colston was toppled, a group of artists has created virtual alternatives to take its place.
The People's Platform uses augmented reality (AR) to allow people to see alternative suggestions for what could stand on the former slave trader's plinth in Bristol.
The statue was pulled down during a Black Lives Matter march in June 2020.
Users do not need an app and can scan a QR code to see the various designs.
The art installation was developed by the creative team at the Cargo Movement, including film maker Charles Golding and Bristol poet Lawrence Hoo. They worked with technology partners Apache to bring the concept to life.
It aims to help "to better represent and celebrate the rich and diverse culture within the city".
Director and film-maker Charles Golding, who has been leading the project, said it had been "a great process" working with people who had submitted ideas.
Users do not need an app to see the AR ideas and, while they appear on the plinth if users are stood there, the designs can be accessed anywhere on a smart phone.
More than 400 different ideas have been suggested by people of all ages including many school pupils who have used the project as a way of looking at the history of Bristol.
"We had one envelope that was 4cm thick, full of ideas just from one school. It was incredible," said Mr Golding.
"It's kids, untainted by political bias with such a range of ideas - everything from Harry Potter to bunches of flowers," he said.
The team now plans to collaborate with several of the schools that have submitted ideas.
Since the statue was pulled down, many public references to Edward Colston have been removed from Bristol.
But the People's Platform team said it had received proposals to put the statue of Edward Colston back.
Mr Golding said they were considering adding a virtual Colston to the choice of visualisations available.
"It's about getting the temperature of the Bristol public, it's all part of the conversation," he said.
Related Internet Links
The BBC is not responsible for the content of external sites.