Covid-19: Dog owners get ready for post-lockdown life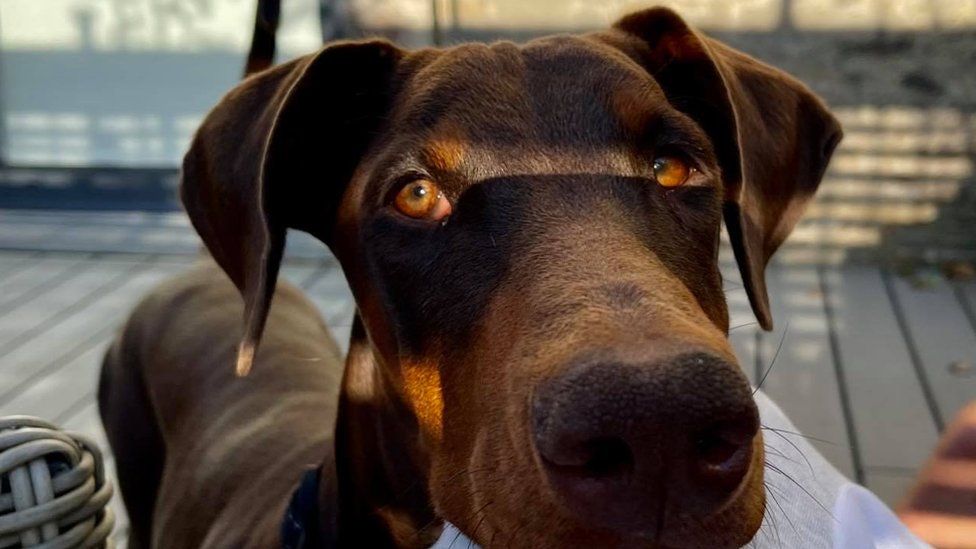 With the final lifting of lockdown and a fall in Covid-19 cases, many pet owners will be preparing to return to the office.
But what does that mean for their animal friends?
According to the RSPCA, there are an estimated 12 million dogs in the UK, many of which will have been used to having their owners being at home on a daily basis since the pandemic hit.
The charity has urged people to plan ahead and make small changes that will help reduce their pets' anxiety, and ask friends and family to dog sit or hire a professional dog sitter for extra help.
BBC News has spoken to three dog owners to find out how their pet pooches are coping:
Amy Carter, 23, from Bristol, got her seven-month-old Doberman named Indiana Bones during the pandemic and said she wished she had prepared Indi more for the end of lockdown.
"I'm still looking for work, but it's coming to a point where I might end up taking whatever I can, which means I need to prepare Indi for me possibly not being at home all the time.
"She's like a stroppy teenager when I leave.
"She's a bit anxious because I don't leave her at home very often, but now that I'm more conscious that things are opening up I'm trying to do that more often because it will be beneficial for her in the long run."
'I miss lunchtimes with Oakey'
Matt Selwyn, from Gloucester, said his five-year-old Labrador Oakey was his "confidant" during lockdown.
"Oakey adjusted to me being home during lockdown quickly and spent much of his time asleep at my feet whilst I worked," he said.
"He was perfect for my mental health."
Mr Selwyn said he gradually left Oakey alone for longer periods.
"Oakey has transitioned without too many issues, but I definitely miss those extra lunchtimes with him," he added.
Nadia Barmada, 47, from Dalston in London, said there has not been a lot of "flexibility to go out" since she took on her 18-month-old rescue puppy Frieda.
"I live in a flat without a garden so I have to take her out four times a day," she said.
Since the end of lockdown, Frieda has had to become used to there being more people about which has "taken a bit of training".
"I've got blocks of four hours where I can leave her at home so I can go to the theatre and I've found a few dog friendly pubs, so I've been working around her and this has been the most limiting transition," she added.
encourage your dog to go to their bed and stay
use lots of praise and reward
gradually increase the time and distance
repeat steps if your dog struggles
Related Internet Links
The BBC is not responsible for the content of external sites.