Bristol teenager in "unbearable" pain due to eczema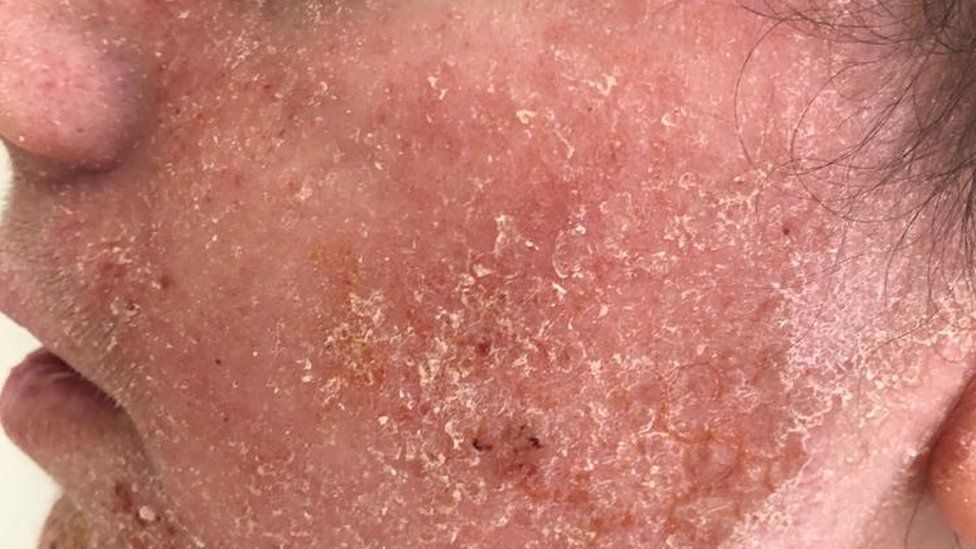 A mother has told of her utter desperation at being unable to afford treatment for her son's severe eczema that leaves him "like an open wound".
Miranda Rae, from Bristol, said it became extreme in October and Barney, 14, was in constant pain.
She said a new US drug Dupilumab, that costs £24,000 per year, might help him.
His consultant told them the NHS could apply for funding for it, but Barney needed to continue with his current treatment for longer.
Dupilumab can only be prescribed in severe cases of eczema and when an immunosuppressive drug has not worked.
Ms Rae is crowdfunding to pay for the drug privately and has so far raised £7,000, which is helping to pay for equipment such as a latex mattress and pillow, an air conditioning unit and a shower head with filters to keep Barney more comfortable.
Broadchurch actor Joe Sims, also from Bristol, donated funds on behalf of his charity 500 Reasons, which intervenes when bureaucracy and red tape are obstacles to healthcare.
Barney was first diagnosed with eczema aged four, but the condition apparently went away completely three years ago.
In October "suddenly out-of-the-blue" it reappeared much worse than it had ever been, Miss Rae said.
"It was just so unbearable for him so quickly and we can't work out a trigger," she added.
Most of Barney's body, including his face, is covered in dry, flaky skin that itches and bleeds, meaning wearing clothes hurts him.
There is no known cure for eczema although many patients apply moisturisers and medical creams.
Miss Rae said she tried putting her son in gloves and covering him in bandages to stop him from scratching one night, but he soon reappeared bleeding all over.
Barney has been on Methotrexate, a drug used to treat leukaemia patients, for six weeks, but Miss Rae said it was not helping.
"He's expected to take it on a Friday night, that makes him sick over the weekend.
"Then he's expected to go to school on the Monday morning. It's just horrific."
His consultant was open to applying for NHS funding to try Barney on Dupilumab but advised continuing with Methotrexate in the meantime, Miss Rae said.
She said when her story was picked up in the US, following a newspaper article, people in America started to contact her about their experiences with Dupilumab and said the results were "amazing".
"I had people saying it was incredible and the difference between light and day," she added.
Miss Rae said she wanted Barney to try a course of Dupilumab injections, but as a single mother there was "no way" she could afford to fund them by herself.
She said she hoped to raise enough to start him on the drug through private healthcare, in the hope the NHS would continue the treatment once it had been proven to be effective.
Haider Ali, a GP with a special interest in dermatology, advised there was no guarantee Dupimulab would work on Barney.
"What's so hard is that everybody is different. What works for one person doesn't work for another," he said.