Geronimo the alpaca: Protesters march on Downing Street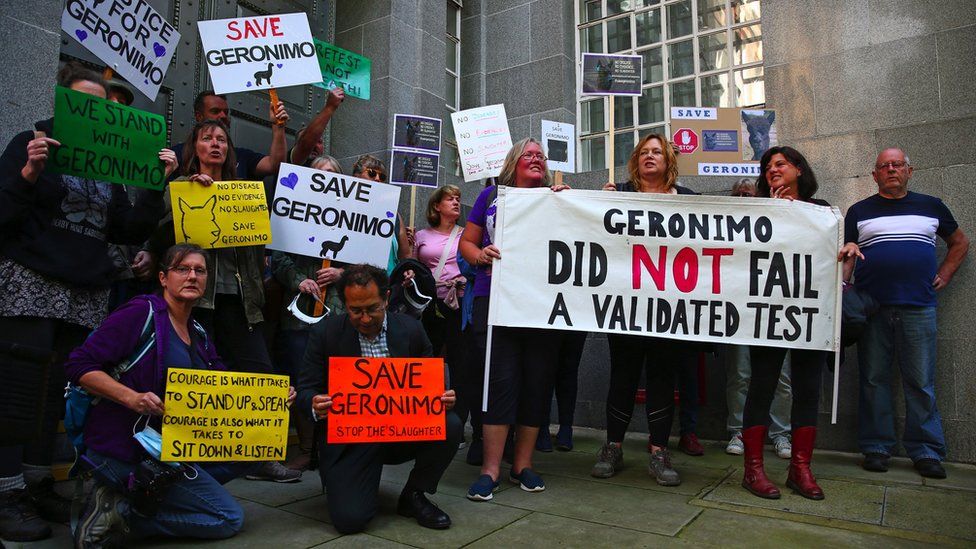 Animal rights protesters have staged a march to Downing Street in London in a bid to save Geronimo the alpaca.
Geronimo has twice tested positive for bovine tuberculosis, and the Department of Food, Environment and Rural Affairs (Defra) has ordered he be euthanised.
About 30 campaigners joined the demonstration from Defra's headquarters in Westminster to Number 10.
Owner Helen Macdonald, who imported Geronimo from New Zealand, believes the tests are returning false positives.
More than 100,000 people have signed a petition calling on Prime Minister Boris Johnson to halt Geronimo's killing.
But Mr Johnson's spokesman insisted the order will not be reversed and said environment secretary George Eustice had "interrogated all the evidence".
The spokesman said: "The fact remains that Geronimo has sadly tested positive twice using a highly specific and reliable and validated test.
"This is something the environment secretary has looked at very carefully."
Veterinary nurse Ms Macdonald lost her final appeal to save him at the High Court last week, and now a warrant has been signed for his killing.
She said she will not break the law when Defra officials attend her farm to euthanise Geronimo but will not "make it easy".
"I'm not going to be helping them kill an animal that does not need to be killed," she said.
"This is an animal injustice and everyone can relate to it and people are coming from all sectors of farming to support us.
"We can make a difference. Geronimo is the poster boy for doing a better job than what we have done in the past."
The prime minister's father has joined the campaign to save Geronimo.
Stanley Johnson said the animal should be given "a stay of execution".
Mr Johnson, a former Tory MEP and who writes about wildlife for The Sun newspaper, said he had spoken to Ms Macdonald over the weekend.
"As far as I'm concerned it is absolutely possible and necessary for the secretary of state George Eustice to have a stay of execution," he said.
"Why? Because when this animal was tested when he came to England, yes there might have been a positive result, and the owner thinks it was a false positive, but that is several years ago.
"An animal that is diseased would not have survived five years, that is for sure.
"There is a case, surely, to let this lady have one test now, she says there is a new test now, surely that is the right thing to do - not just to say 'the law must take its course'.
"It's really quite a simple thing to say. This animal should be tested.
"Good sense should prevail, and George Eustice is a man of impeccable good sense."
How has Geronimo been tested so far?
Geronimo the alpaca has been tested twice with the Enferplex blood test, the Department for Environment, Food and Rural Affairs (Defra) says
It is the test that was requested by the British Alpaca Society at the time, George Eustice says
The UK government says this is the same test used on "a prize bull"
Owner Helen Macdonald says there is insufficient evidence as to the accuracy of this relatively new test when used on alpacas
Defra says Enferplex has a 0.34% chance of showing a false positive
Related Internet Links
The BBC is not responsible for the content of external sites.