Voi scooters: Bristol riders reminded to obey motoring rules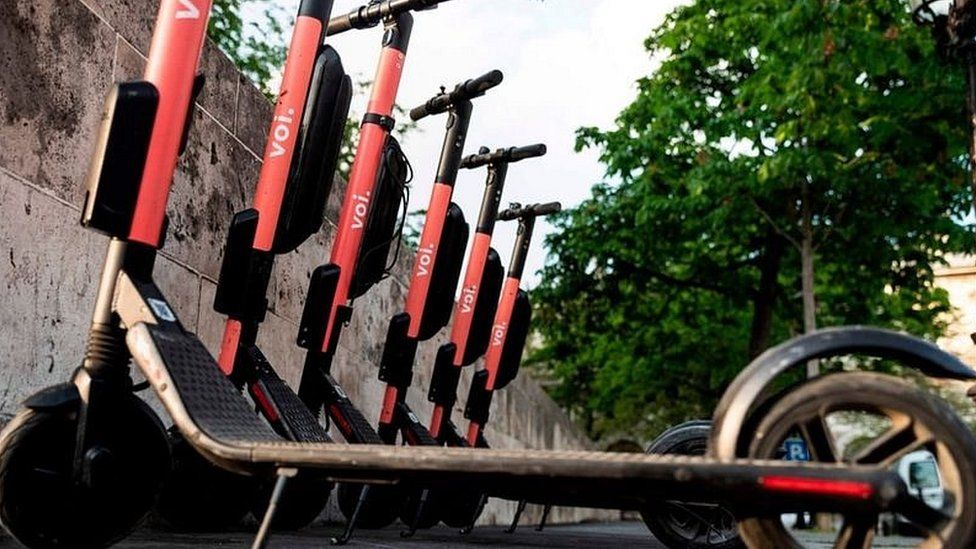 Police have warned a minority of e-scooter riders in a city to obey motoring rules.
A man was arrested in Bristol at about 22:30 BST on Saturday following reports of a collision with a car and bus.
He was taken to hospital with non life-threatening injuries, then arrested on suspicion of driving whilst unfit through alcohol.
A Voi spokesman said it took the dangers of driving while drunk or drugs "extremely seriously" and those found to have used drugs or alcohol would be handed an "immediate and indefinite ban".
"Dangerous and careless driving offences apply to e-scooter users and are subject to the same drink-drive limits as other motor vehicles," he added.
Avon and Somerset Police said the man arrested on Saturday had been released under investigation.
The force's Superintendent for Road Safety Simon Brickwood said: "We're keen for riders to be aware that e-scooters are subject to the same road traffic legislation as cars or mopeds.
"While they may not be capable of high speeds, irresponsible e-scooter use puts pedestrians, motorists and the riders themselves at risk."
But Supt Brickwood added that while there had been a small number of incidents of "poor rider behaviour", the vast majority of people who use them in Bristol and Bath are "complying with the rules".
"Working closely with the local authority and Voi, Our Neighbourhood Teams are actively engaging with e-scooter users as part of our regular patrols, issuing safety advice and taking positive action where appropriate.
"While a warning may be given in the first instance, officers have the power to take enforcement action where traffic offences are being committed," he added.
Related Internet Links
The BBC is not responsible for the content of external sites.