Gorilla raised by surrogate at Bristol Zoo turns one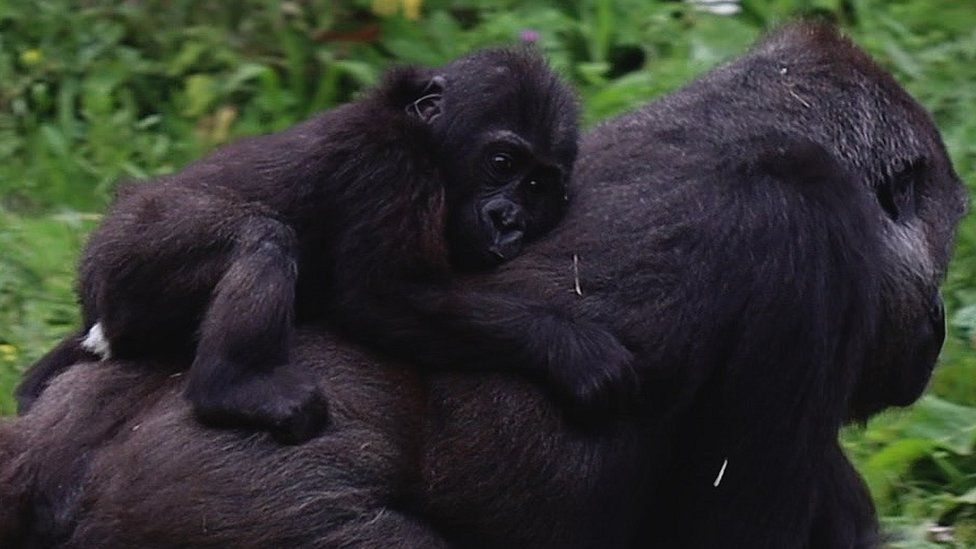 A baby gorilla born at a zoo and hand-reared by keepers and a surrogate is celebrating his first birthday.
Hasani was born at Bristol Zoo last August but had to be raised by a surrogate after his mother struggled to look after him.
Despite his rocky start, the 9kg (20lb) one-year-old is crawling, drinking four bottles of milk a day and developing at the same rate as a human baby.
His keepers said he was thriving and was a "typical, energetic boy".
Unable to get sufficient milk from his birth mother Kala, the western lowland gorilla had to be bottle-fed up to eight times a day by a team of six keepers around the clock for seven months.
"For gorillas it is essential that they have that body contact. So we wore string vests so he could cling on to us," said Alan Toyne, small mammals team leader.
"At night we would bottle feed him every two hours and he'd snuggle up and sleep with us in bed.
"And you didn't have to set an alarm, because he'd wake up and start poking you, so you knew he was hungry."
At eight months old, Hasani, which means "handsome" in Swahili, was successfully introduced to the zoo's 18-year-old gorilla Kera, who took on the role of surrogate mother.
Mammals team leader Sarah Gedman said they "couldn't have wished for a better result".
"Kera and Hasani are wonderful to watch. He will giggle with delight when she plays rough and tumble with him," she said.
"He is very relaxed amongst the troop and is finding his place in the hierarchy."
A spokesman for the zoo said it hoped over the coming months Hasani would continue to build in strength and take his first steps.
The western lowland gorilla is classed as critically endangered, with some estimates putting the number left in the wild at about 100,000.
Related Internet Links
The BBC is not responsible for the content of external sites.