Women 'marry' trees to highlight Bristol building plans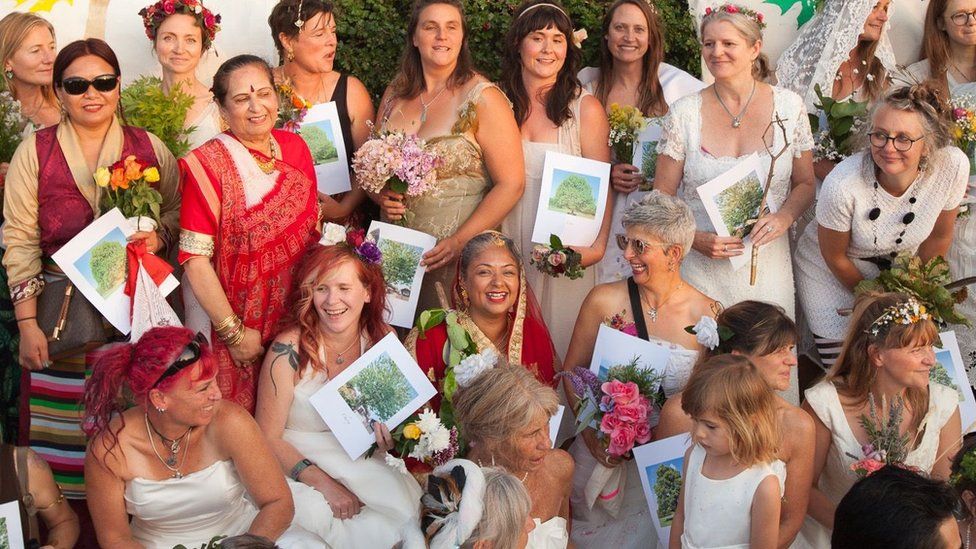 At least 70 women have "married" dozens of trees in a ceremony aimed at highlighting building plans which could see the trees' removal from the site.
Organisers said they were worried about the threat posed by proposals to build 166 apartments on land in Bristol.
Event creator Siobhan Kierans said she hoped the "marriage" ceremony showed that "trees are our partners for life".
Bristol City Council said due to the planning application currently being considered it was unable to comment.
The "brides" who took part wore wedding dresses from different cultures while symbolically marrying 74 trees in a ceremony carried out by a celebrant.
Campaigner and "bride" Suzan Hackett, from Bristol, said: "To get married to a tree is an absolute privilege. It's not just a sentimental gesture, it is highly significant and symbolic.
"Trees are pure examples of unconditional love, which fits in so beautifully with the whole idea of marriage. Marriage is for life, breathing is for life.
"Bristol needs mature trees more than it does luxury private housing."
The planning application, from Goram Homes and developers Hill, which has not yet been approved, is for 166 homes, including about 66 social and affordable housing units.
Owners of the Baltic Wharf Caravan Site, where the 74 trees are located, have been served notice by the city council to leave.
The application acknowledges some of the trees will need to be removed, but the Save Baltic Wharf Trees group and the Bristol Tree Forum have criticised what they said was a lack of transparency around the number of trees due to be felled and when it may happen.
Prof John Tarlton, a professor of regenerative medicine at Bristol Veterinary School, who wrote the trees' "vows" and also acted as the best man at the event, said: "Once the planning application has been approved, it is too late."
He added: "Nobody is going to reverse that decision. That's it, the trees will go and there is very little we can do about it.
"We cannot afford to lose these 74 trees. It is an enormous number of mature trees and in a part of Bristol that needs them most."
Related Internet Links
The BBC is not responsible for the content of external sites.