Plan to remove bins from The Downs rejected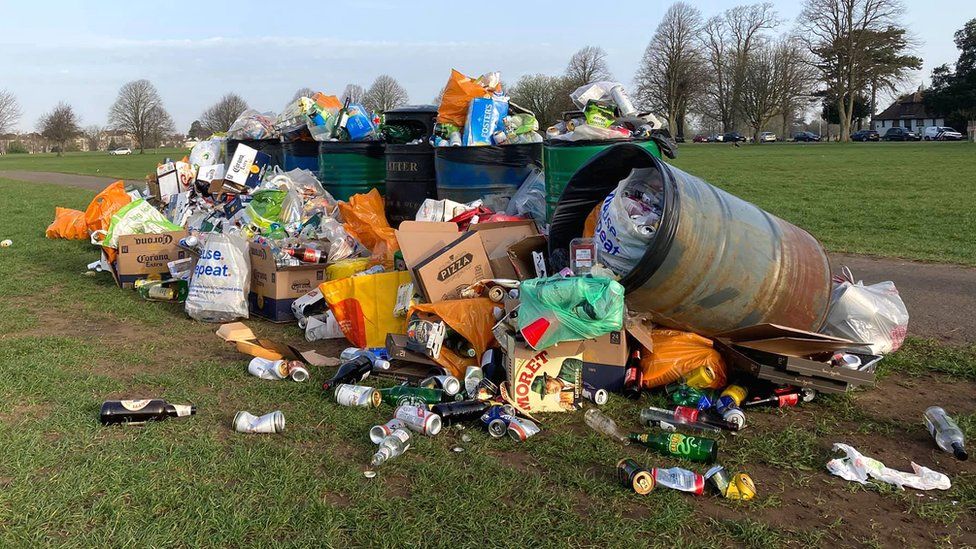 Removing bins from a popular green space would lead to "chaos" and make the area "vile", it has been claimed.
The Downs Committee, which manages Clifton Down and Durdham Down in Bristol, discussed the proposal after "mountains of rubbish" built up in the summer.
Supervisor Ben Skuse said removing the bins would make people think about their waste.
But councillors instead decided to look at other measures such as more fines.
There are about 36 bins on The Downs. Six are permanent and the rest in place temporarily over the summer.
Removing the bins was first mooted in July by a member of Bristol City Council's parks team, who said they could not cope with the "mountains" of rubbish being left beside overflowing bins.
Mr Skuse repeated the suggestion at a committee meeting on Monday, saying removing them would mean people would consider "disposing of it [rubbish] correctly", the Local Democracy Reporting Service said.
The proposal divided members of the committee, with members from the Society of Merchant Venturers Peter Rilett and David Powell in favour of a "short sharp" shock approach. 
Mr Powell said: "If there are no bins, it does encourage people to think 'well I've got to do something else with rubbish'."
But councillor Clark said the amount of rubbish on The Downs was an "absolute disgrace" and she was not "particularly optimistic" the public would take it home with them if the bins were removed.
"It could be chaos up there and just vile," she said.
Councillor Geoff Gollop, who represents Westbury-on-Trym and Henleaze, said local residents would suffer if the bins were removed. 
The committee instead agreed to take extra steps to persuade people to take their litter home with them, with a view to reducing bins in the future, and to ask the council to send litter wardens to the area to issue fines.
Mr Skuse said if mini-supermarkets in the area stopped selling disposable barbecues it would "drastically reduce" the amount of rubbish on The Downs.
Related Internet Links
The BBC is not responsible for the content of external sites.