Plague game gets thousands of orders during lockdown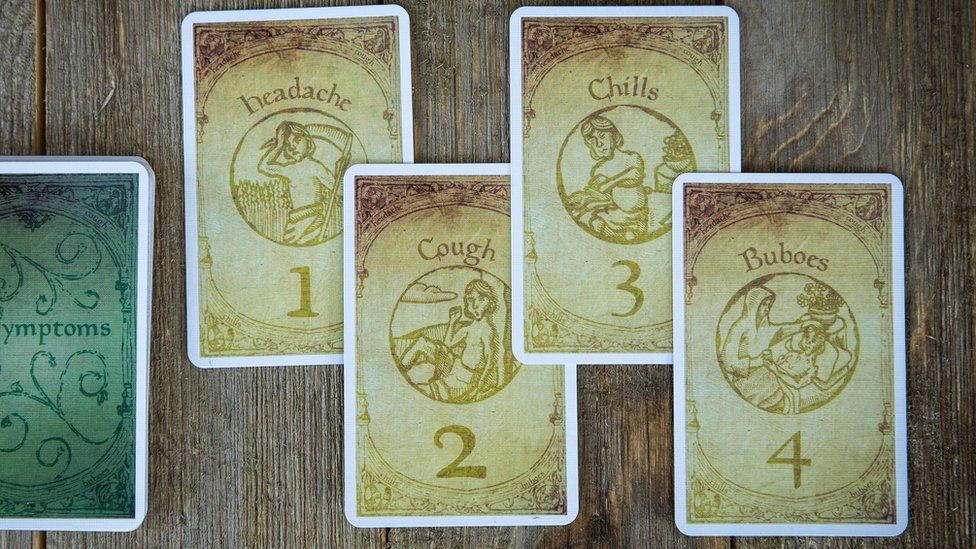 A board game challenging players to escape a plague-ravaged city has sold thousands of sets during the pandemic.
Bristol 1350 was launched during lockdown and raised almost $1m (£726,705), exceeding its initial target of $30,000 (£25,318).
"We were sensitive to the timings, although the initial proposal dates back way before Covid," said game developer Travis Hancock.
"In the end we didn't get a single negative response."
He and his fellow game designer wife, Holly Hancock, were about to launch a fundraising campaign when the global pandemic struck.
"It did make us wonder whether we should pause our plans," said Mr Hancock.
After some research into the topic the couple, who live in Columbus, Ohio, decided Bristol made the perfect setting.
"We had amazing feedback from our past backers and decided to go for it and we've been able to donate some of the funds to people in our local community who have suffered from Covid.
"There are just no major games with Bristol in the title and after some research it seemed like the perfect place to base our story of the Black Death."
Causes of the Black Death
Medieval doctors did not understand disease and had limited ability to prevent or cure it
Towns had no system of drains, sewers or rubbish collections
Many historians believe the plague originated in China and followed the trade routes
The plague lived in fleas which lived on black rats
After 1300 there was climate change and harvests failed
More than 30,000 copies of the game have been sold since its release in March 2021.
Since the game went on sale the family have received invitations from dozens of Bristolians to visit the city.
"Several game stores in Bristol have sent us pictures with copies of the game on their shelves. We'd love to come visit within the next couple years," said Mr Hancock.
For some it comes as no surprise that new board games have been popular during lockdown and the pandemic.
"It's just the best experience to sit down with the people you love across a table and play a game together," said Quintin Smith, editor of board game channel Shut up and Sit Down.
"There's definitely been a surge in sales as people have been in lockdown in their homes together but the pandemic has also seen massive challenges for smaller production houses, as the worldwide supply chains ground to a halt, putting extra pressures on businesses."
Related Internet Links
The BBC is not responsible for the content of external sites.