The Bristol duo who taught the world to sing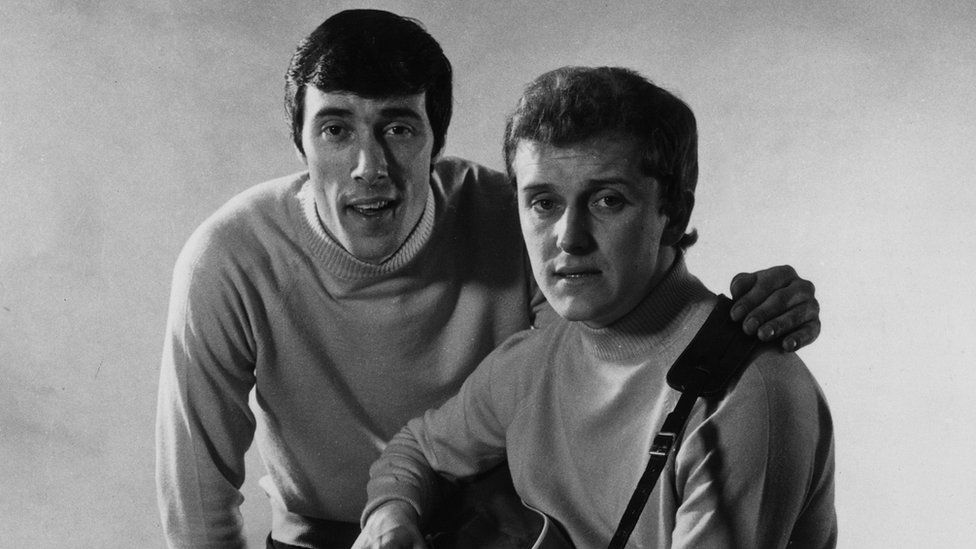 They may not be as well known as Lennon and McCartney, but when it comes to writing Roger Cook and Roger Greenaway's songs are almost as well known as the iconic Beatles duo. Fifty years ago the Bristol-born pair created a song for a Coca Cola advert that not only topped the charts but found its way into the public consciousness around the world.
They were the Bristol boys who met by chance and ended up becoming two of the most highly-regarded songwriters in the world.
Cook was born in Fishponds and Greenaway in Southmead Hospital, both just before the outbreak of World War Two. Their remarkable story - including how they wrote iconic hit 'I'd Like to Teach the World to Sing' - has been told to BBC Radio Bristol.
Greenaway was a talented enough teenage footballer to be signed as a youngster by Bristol City FC, but music rather than sport was to be his calling.
In another part of the city in 1958, the guitarist in The Sapphires, the band Cook was a member of, wrote a song for the one woman in the band to sing.
"I was so jealous - I thought if he can write a song for her I can write a song," said Cook. "I started writing at least a song a week from then on."
Greenaway was working at a paper manufacturing company. There he formed a harmony group with colleagues called The Kestrels. They practiced in the workplace basement and other staff would come down and listen.
Harry Barter was the original Simon Cowell, organising an X-Factor style event in the 1960s when bands would compete in heats to get through to a final.
The Kestrels and The Sapphires ended up competing against each other at the Bristol Hippodrome in the early 1960s.
"We got up and sang and thought we were pretty good," said Cook. "Then the Kestrels came on and blew us away."
The Kestrels won and went on to tour as a band. One day, needing to replace a member, Greenaway remembered Cook and suggested him as an alternative.
Cook jumped at the chance and went straight on tour with the group, but it seemed his partnership with Greenaway was to be short-lived as the latter had decided life on the road was not for him, and this would be his last tour.
As fate would have it, towards the end of the tour the pair decided to see if they could write a song together. They recorded a demo of the track - 'You Got Your Troubles, I've Got Mine' - and then went back to the concerts.
When the tour was done, Tony Hiller at Mills Music called the pair in.
"He said sit down guys, I've got something fantastic to tell you," said Greenaway. "And he played us a version of 'You've Got Your Troubles' by a band called The Fortunes."
Hiller had not only played the demo to the people behind the Fortunes, he had also played it to several others including George Martin, the man who produced The Beatles.
Cook and Greenaway met Martin, who praised their songwriting to the extent that Cook remembers leaving the room "walking on air, there was nothing underneath me".
It was that meeting with Martin that led to the pair being given the stage name of David and Jonathan - named after the Old Testament friends - and they began touring and writing in their own right.
But after 18 months away from home, they decided to concentrate on writing rather than performing.
The pair became prolific. At one point there was a two-and-a-half year period where they were never out of the charts in the UK.
Legendary British DJ Tony Blackburn said: "What makes Cook and Greenaway so special is they have a knack of writing very short but memorable songs.
"When I was out on Radio Caroline or Radio One, I was selecting records looking for that perfect pop song, the ones that everybody would love to sing along with."
Moments of inspiration from the pair created songs that still get played today. For example, Greenaway recalls being in Sunderland and experimenting on the piano.
The song 'Something's Gotten Hold of my Heart' was the result. It ended up being a hit for Gene Pitney and has been covered multiple times since.
"They could never quite replicate my demo, so it's my version you hear in the original," said Greenaway.
The pair wrote 'Home Loving Man' for Andy Williams and had hits in Europe and the USA, one of the most famous being 'Long Cool Woman in a Black Dress', sung by The Hollies.
At that time Cilla Black was about to start her second TV series. Her producer at the BBC called Greenaway looking for a theme tune.
"He said Cilla will be in silhouette at the back of the stage. She will walk forward and then when she gets to the mic a pin spot light will hit her head, the lights will all go up and everything has to happen.
"It was at that moment he said that, he gave me the title of the song - 'Something Tells Me Something's Going to Happen Tonight'."
The pair were now in high demand. They wrote songs for a band called Blue Mink, propelling them to chart success, and the jingles for hundreds of commercials, including all the ones used on new station Capital Radio.
They were approached to write songs for Coca Cola. Greenaway came up with a ditty called 'True Love and Apple Pie' but was told while the melody was fine, the lyrics wouldn't work.
Cook and advertising executive Bill Backer worked on the lyrics and came up with 'I'd Like to Teach the World to Sing'.
"We got paid and that was the end of it as far as we were concerned," said Cook. But he could not have been more wrong.
The radio advert, sung by The New Seekers, ran its course and as Cook and Greenaway recall, did not have much impact. Then the tune was adapted for a TV advert - 'I'd Like to Buy The World a Coke'.
Cook recalled: "Thousands of people were writing into Coca Cola and asking where they could buy the song."
The New Seekers were playing a show in New York and were rushed into a studio to record the full version of the song.
Ten days later it was in the charts, selling 99,000 copies in one day in London alone.
Tony Blackburn can still remember the first time he played it on the radio.
"The audience reaction was tremendous, it's just such a joyous song. It makes you feel really good every time you listen to it."
It was by no means their only memorable advert. Remember 'If You Like a Lot of Chocolate on your Biscuit Join Our Club'? That's also their handiwork.
'Denigrated' for their talent
It was at this point that success had an unexpected impact on the pair.
"We'd been involved in making records for what we would call make-up groups," said Greenaway
At one point four one-off acts they had written songs for performed on Top of the Pops at the same time.
"It's never happened before and will never happen again," said Greenaway.
"A month later we'd been in the studio and recorded another song called 'Lady Pearl' for a group we called Kurrent Kraze."
He took a call from Top of the Pops saying they loved the song and would like the band on the show the following week and could Greenaway pass on the names of the group.
"I said 'well it's Roger Cook' and he said 'stop there'. He said 'it's not you guys again is it?'
"I said 'it was', and he said 'Roger I can't use you. You would not believe the number of letters we get complaining about you guys after that four-act fiasco'.
"He said he had been given a word from 'on high' that they mustn't use us again."
"I told Roger (Cook) and he said if we were in America we would be feted for our success and here because we're successful we're being denigrated.
"That's what eventually drove him to leave the UK."
Cook left, eventually settling in Nashville where he took his songwriting talent and applied it to country music, establishing his reputation in a city where, in his words, you are nobody unless you have had a country hit.
Greenaway continued to work, partnering with The Drifters in the 1970s, bringing them back into the charts.
"Those were five wonderful years, a dream," he said.
He also went on to become chairman of the Performing Rights Society, earning a reputation as someone who fights for the rights of songwriters.
As well as their huge catalogue of songs, the pair have been given plenty of awards, including several Ivor Novello Awards between them.
Cook became the first Englishman to be inducted into the Nashville Songwriters Hall of Fame and the pair were jointly welcomed into the Songwriters Hall of Fame in New York on the night when they sang together on stage.
Even now, Cook says he writes at least two songs a week
"The songs those two turned out, they will live forever," said Tony Blackburn.
But 'I'd Like to Teach the World to Sing' remains their most familiar track.
"Here in America they sing it in schools, kids sing it. I am told some churches even sing the words of 'Amazing Grace' to that tune," said Cook.
"When I play live I always end with that song, and the place always erupts.
"And I think well Roger, you can't escape this song. It's with you forever."