Geronimo the alpaca: Tests unable to confirm bTB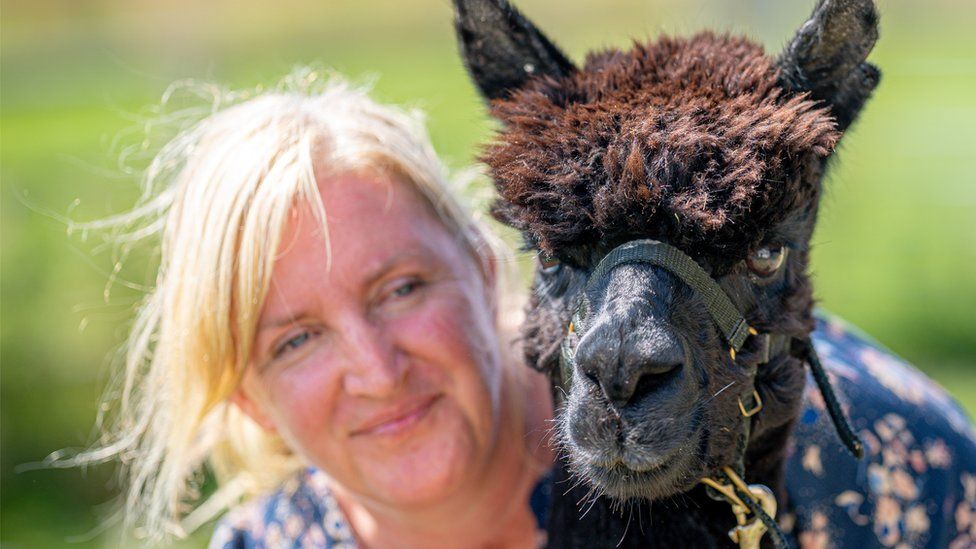 Tests on Geronimo, the alpaca suspected of having bovine tuberculosis (bTB), have been unable to confirm whether the animal had the disease.
Officials took Geronimo from his farm near Bristol and put him down on 31 August after he twice tested positive for the disease using disputed methods.
Government vets said the inconclusive test results did "not mean the animal was free of bTB".
They said they had followed the advice to cull animals to prevent its spread.
In a statement issued earlier she said: "For nearly five years, we have asked the government to retest, reconsider and review their bovine TB policy, appealing directly to the Prime Minister Boris Johnson and Secretary of State George Eustice.
"George Eustice has spent a ridiculous amount of British taxpayers' money and resources on trying to prove that this one imported alpaca had Bovine TB, when we knew all along that he didn't, and ultimately, he personally ordered for Geronimo to be condemned to an unjust death.
"It is incredibly sad and personally devastating that the truth only emerges after the senseless death of Geronimo."
The veterinary nurse consistently argued the Enferplex test was fundamentally flawed.
She said the reason Geronimo had tested positive was because as part of the test he was primed with tuberculin - a purified protein derivative of bovine TB bacteria.
Dominic Dyer, who campaigned alongside Ms Macdonald to save Geronimo, said: "We finally got the full post-mortem results and it's clear this animal did not have TB."
"Helen was a scapegoat. The poor alpaca Geronimo was killed for absolutely nothing in the most brutal disgusting way in front of the world's media," he added.
Veterinary scientist, Dr Iain McGill, who reviewed the preliminary findings for Ms Macdonald, said: "Today is a very sad day.
"There is nothing in the post-mortem results so far that give any evidence of infection in Geronimo.
"We always felt Geronimo's diagnosis was unsafe."
"Sadly we were expecting this," he added.
In support of his view he cited Geronimo's history; that he was not exposed to TB in New Zealand, that he had been kept in "gold standard isolation" since arriving in the UK, and the fact "he had stayed healthy throughout" the protected legal battles - when normally bTB takes hold quickly in alpacas.
Following Geronimo's death, a post-mortem examination and a study of tissue samples was carried out by veterinary pathologists from the Animal and Plant Health Agency.
Vets working with Ms Macdonald said there were no visible lesions of bTB.
In a statement, her lawyers added: "For clarity there are no white or cream caseous, enlarged abscesses typical for bTB in alpacas whether in the lungs, bronchial, mediastinal or retropharyngeal lymph nodes."
Defra said the additional bacteria culturing process, which has been taking place since September, was not used to validate previous test results, but was instead used to identify which strain of the disease was present.
It said that helped inform decisions about testing other animals in the herd.
The government's chief veterinary officer, Dr Christine Middlemiss, said: "This animal tested positive for bovine tuberculosis on two separate occasions using highly specific tests.
"Due to the complexity of the disease, further testing has not enabled us to use Whole Genome Sequencing to try to understand how the animal became infected in the first place.
"Our sympathies remain with all those with animals affected by this terrible disease which devastates farmers' livelihoods."
Ms Macdonald said the UK farming community had been let down by the government and that everyone involved should be held to account.
"This latest episode is yet another example of this government's blind adherence to a flawed policy and their own flawed version of events, regardless of the consequences," said Ms Macdonald.
She previously vowed to fight for animal rights in "honour" of Geronimo.
"Geronimo was a blessing in my life. He touched the world. He was loved and precious to very many people and he lives on.
"I miss him. But I will do him the honour of fighting for him and making sure his legacy lives on for all animals," she added.
Geronimo was brought to England from New Zealand in August 2017 by his owner Helen Macdonald
The alpaca twice tested positive for bovine tuberculosis in August and November that year
He was put into isolation away from the rest of the herd at the farm in Wickwar
The government applied for a court order in July 2018 to have him destroyed
Geronimo was given a stay of execution, with a deadline of the end of August for his slaughter
Ms Macdonald then sought a judicial review claiming new evidence showed the animal was healthy, marking the start of a series of lengthy legal battles
In November, Ms Macdonald won the right to a review at the High Court in London
A hearing began in March 2019 and Ms Macdonald claimed government experts had relied on "flawed science"
The case was dismissed in July 2019
Ms Macdonald started an appeal and an order was made preventing Geronimo's death pending the appeal application
She then took out an emergency injunction to delay a warrant to cull the animal before an appeal hearing on 29 July 2021
The case was once again dismissed. A judge agreed to delay the start of a second execution warrant until 5 August, which was later extended to 4 September
Geronimo was euthanised on 31 August
An initial post-mortem examination in September found possible evidence of bTB, but supporters disputed the results
Related Internet Links
The BBC is not responsible for the content of external sites.