Lights display earns boy BBC Radio 1 Teen Hero award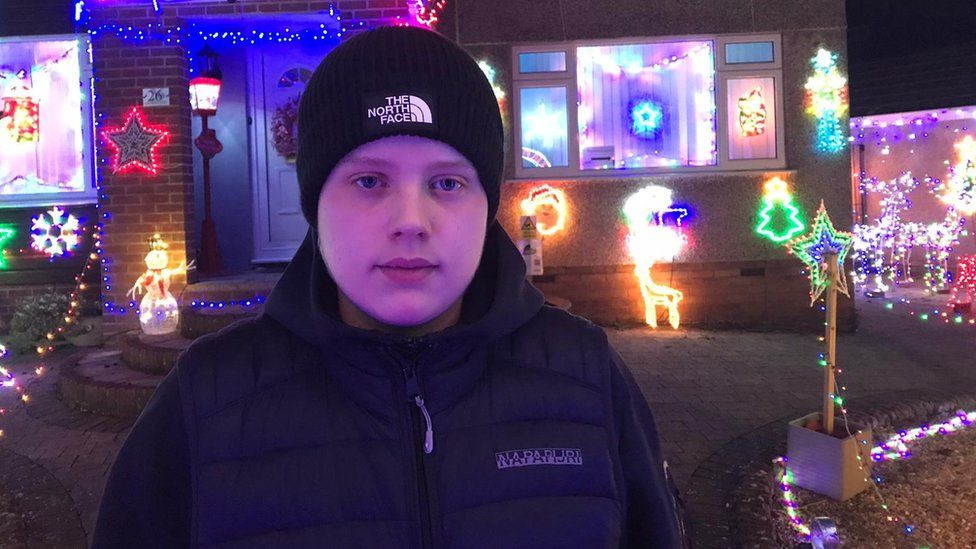 A boy who puts up Christmas lights every year in memory of his sister has been named BBC Radio 1's Teen Hero.
Jake, 14, puts up the display for his sister Stacie, who died after suffering an anaphylactic shock on Christmas day in 2015.
This year his grandmother passed away from spleen cancer, so has dedicated his lights to them both whilst raising thousands of pounds for charity.
His father Jeff said he is "incredibly proud" of his son's achievement.
The display, which includes lights that belonged to his sister, has so far raised £5,558 for Macmillan Cancer Support.
On his GoFundMe page he wrote: "As a family we try to celebrate Christmas as it's what Stacie would want.
"Using the lights to raise money for Macmillan seemed a perfect way to remember her."
Jake, from Downend, Bristol, said the display was damaged during Storm Arwen in the run-up to the day when he switched on the lights with the local community.
"With the two storms we've had to battle with recently, knocking it down, getting it back up, getting it on, getting people smiling, was the main priority.
"Looking at it all done is almost an achievement in itself,"he added.
To celebrate his achievement, Jake got to help present the Radio 1 breakfast show with Greg James and was invited to Kensington Palace to visit Prince William with others who had also been named BBC Radio 1's Teen Hero for 2021.
On the radio show, celebrity chef Gordon Ramsay congratulated Jake.
He said: "What you've done has been absolutely extraordinary.
"I can't wait to meet you, you're such an inspiration. Well done."
His dad Jeff said Jake had "come so far".
"I'm incredibly proud. What a fantastic achievement," he said.
"Every year, bigger, better, brighter and he brings a lot of joy and happiness to a lot of people who come and see the lights and we raise money for a great cause.
"It's a win-win, I just have to pay the [electricity] bill."