Queues form as Banksy Colston statue trial T-shirts go on sale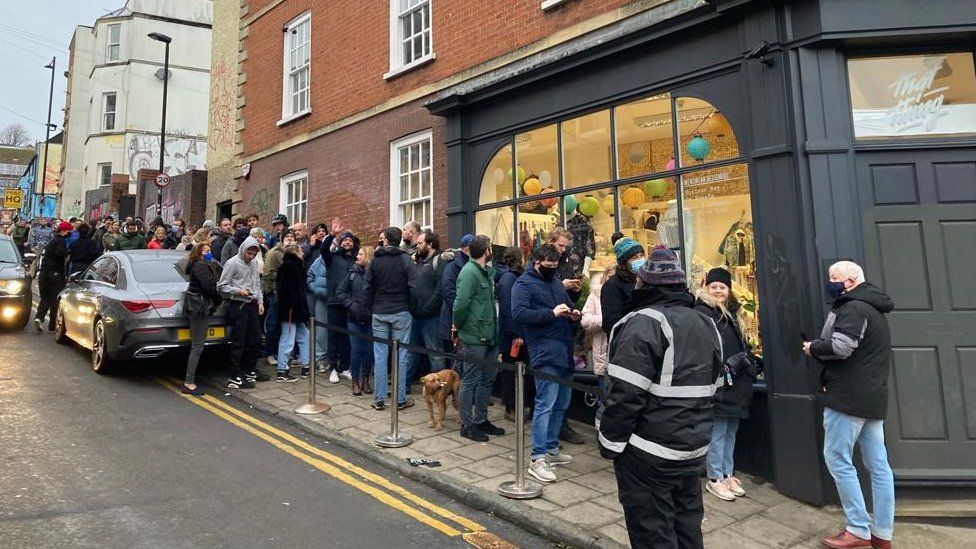 Large queues formed as limited-edition T-shirts made by anonymous street artist Banksy went on sale.
He said they had been created to show support for the four people about to go on trial accused of pulling down the statue of slave trader Edward Colston.
The shirts quickly began appearing for resale online, with one seller asking for £9,000.
Local radio station Ujima began announcing the sale points on its breakfast show from 09:00 GMT.
Once the locations were made public hundreds of people quickly formed a queue at one of them - That Thing on Stokes Croft.
Similar queues appeared outside Friendly Records in Bedminster and Rough Trade on Nelson Street.
Among the hundreds of people who queued outside the Rough Trade record shop were brother and sister Tom and Rosie Levins.
"When we got in the queue, I don't think we were really confident," Miss Levins said.
Her brother added: "I collect all the Banksy stuff I can get hold off. When stuff comes up in Bristol and you get a chance..."
In an Instagram post, Banksy said the shirts would be limited to one per person, and proceeds would go "to the defendants so they can go for a pint".
Jake Skuse, Rhian Graham, Milo Ponsford and Sage Willoughby all deny criminal damage relating to the removal of the statue and face trial at Bristol Crown Court on Monday.
The statue of Edward Colston, a 17th Century slave trader, was pulled down during a Black Lives Matter protest in Bristol in June 2020.