Universities see 50% rise in US students post-Brexit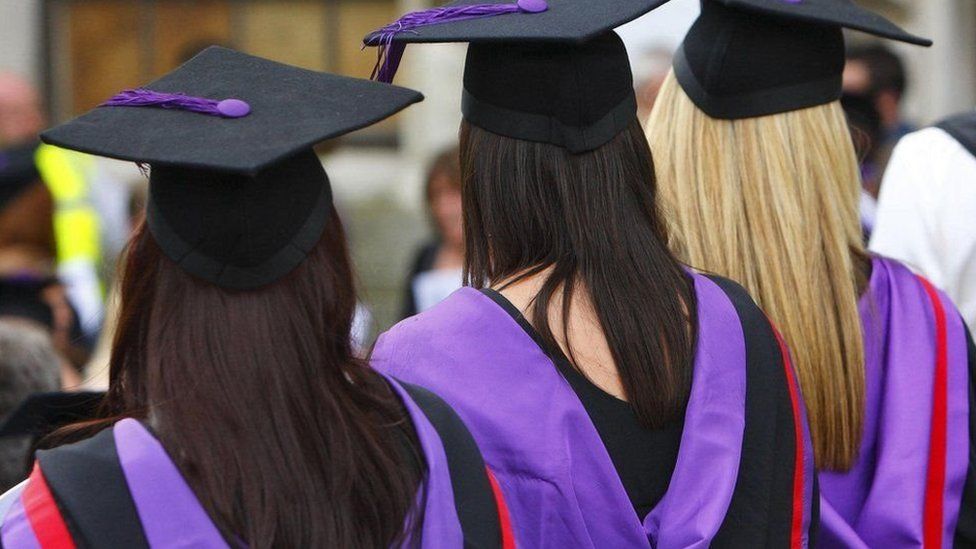 UK universities have seen an almost 50% increase in the number of US students applying for courses since Brexit.
This has coincided with a 40% drop in the number of EU students coming to the UK between 2020 and 2021.
The rise is the "largest proportional increase in applicants of any major nation", UCAS said in a report.
One American University of Bristol student said that studying at a similarly regarded university in America would cost "much more".
A firm that helps US students get visas believes this trend could alleviate some of the loss to universities from Brexit - especially in the South West.
When the UK was in the EU, students from other member countries only had to pay up to £9,250 per year, the same as British nationals.
Kareem Dus is the founder of Favisbook - a firm which helps around 3,000 American students get visas to study abroad every year.
He said that the number of US-based students using the company's services to study in the UK has risen by around 39% since the country officially left the EU in 2020.
As well as the lower cost in comparison to US fees, Mr Dus said he believes that the UK's move away from Brussels since Brexit and its apparent move towards America in many people's eyes is making it increasingly attractive to US-based students.
And with the overall number increasing, more will end up going to institutions including the University of Bristol, Bath Spa University and the University of the West of England, he said.
"This is a growing market for us," he added.
"We've certainly noticed an increase in orders for UK visas from the American side.
"Bristol is a prime example of a university that will do well. It's known internationally and has a reputation for research that academics respect.
"It's also a beautiful part of the UK with its architecture which is always a big pull."
Mr Dus added: "As well as benefiting the institutions, these students are paying high fees and contributing to the local economy during their studies.
"It's a win-win from the UK's perspective. These people are highly skilled and however long they stay they will contribute to the economy."
He spoke as the University of Bristol revealed that EU applications declined in 2021 by 42% and enrolments by 39% while US applications rose 82% and enrolments by 29%.
However, a spokesman pointed out that the number of US students is typically only between 4% to 5% of its EU cohort pre-Brexit.
In a recent report, UCAS revealed that undergraduate applications from outside the EU rose by over 12% to a record 111,255, with 54,030 placed - an increase of 2% over the previous year.
China remained the largest market with 30,845 applicants and 16,310 placed, followed by India with 11,075 applicants and 4,600 placed.
Nell Boyd is in the third year of a bachelor's degree in international business management at the University of Bristol.
The 21-year-old said she was attracted by the university's "good brand name" but also liked its "emphasis on extra-curricular activities".
She said: "I had thought about London but ultimately decided against it because I wanted a smaller version.
"Bristol has more of a college vibe. London is a great city but to live for me Bristol was the best option."
Ms Boyd, who is from Los Angeles, is the co-president and co-founder of the university's USA Society.
It was only created in November last year and already has around 100 members.
Ms Boyd explained that studying at an internationally-regarded university on par with Bristol in America would cost "much more".
She said that while studying for a full-undergraduate degree remained a "niche" among her peers - spending a year abroad or doing a master's degree was increasingly popular.
The USA saw the largest proportional increase in applicants of any major nation to 7,980, an increase of over 48%.
The number of placed applicants from the USA increased by 32% to 2,710.
The figure for 2022 was 5,280 - which represents a fall on 2021 - however a spokesman pointed out that this will likely rise as international applicants can apply after the January cut-off date.
And when compared with 2013 - when there were 2,710 applicants - the figure has almost doubled in nine years, UCAS pointed out.
The UK also has numerous world leading academic institutions - most notably the universities of Oxford and Cambridge.
This has seen the number of international students coming to the UK growing from 216,565 in the 2000/1 academic year to 605,130 in 2020/21, according to the Higher Education Statistics Agency.
Related Internet Links
The BBC is not responsible for the content of external sites.