Bristol environmentalist wins PM's award for plogging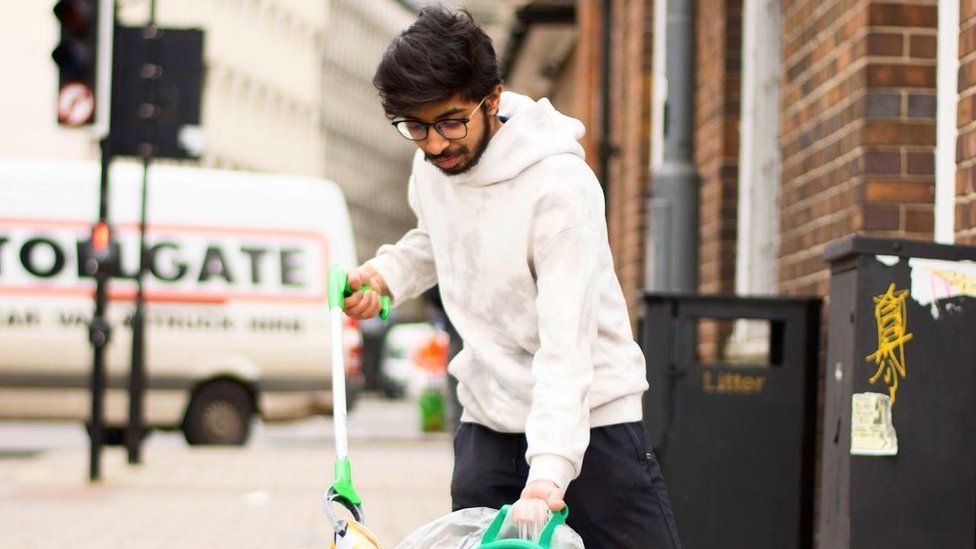 A student environmentalist helping to clean up Bristol's streets has been given an award by the prime minister.
Vivek Gurav started plogging - jogging while picking up litter - in the UK while starting his master degree at the University of Bristol in September.
He had been plogging in his home city of Pune, west India, where volunteers collected some 1,000 tonnes of rubbish.
At university he started Bristol Ploggers, a 140-person group that picked up litter all over the city.
Mr Gurav won a Points of Light award, which the Prime Minister gives to "inspirational volunteers" who are "making a change in their community".
He said discovering he had won the award "was a real goosebump moment".
"For me, it's a real honour and a verification that things like plogging need to be done, both in India and the UK.
"I hope this award will really support and amplify our cause."
Mr Gurav has returned to Pune to research his dissertation and is due back in Bristol next week.
Prof Judith Squires, acting vice-chancellor and president of the University of Bristol, said: "Vivek's drive to change the world for the better is nothing short of inspiring.
"Together with his volunteers he has picked up thousands of tonnes of rubbish.
"It has taken hard work, intelligence and generosity of spirit - all traits that Vivek has in spades.
"We are delighted that his amazing work on the streets of Bristol, Pune and further afield has been recognised by the Prime Minister."
After finishing his master's degree in Environmental Policy and Management, Mr Gurav said he hoped to gain more experience in sustainability to take back to India with him.
He said: "I want to learn as much as possible, so I can come home with insights.
"That's why I wanted to come to the UK to study climate science."
Related Internet Links
The BBC is not responsible for the content of external sites.