Three people arrested after scrap yard raids in Wisbech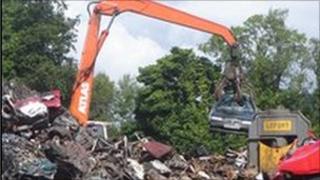 About 100 police officers have carried out raids in Cambridgeshire in connection with metal thefts and associated crime.
Two scrap metal yards and two properties in Wisbech were searched and two men and a woman have been arrested.
The police were joined by staff from EDF Energy, BT, Customs and Excise and Fenland District Council.
Churches, phone cables and electricity substations are often a target for thieves, said police.
Officers from Norfolk, Cambridgeshire and Suffolk took part in the operation.
Cambridgeshire's deputy chief constable John Feavyour said: "Today is the culmination of a painstaking, 18-month inquiry that demonstrates our commitment to tackling metal theft and associated crime.
"Our aim is to disrupt and shut down the market that is fuelling this type of offending, which is not 'victimless' and can be very disruptive to members of the public, businesses and organisations."