Plan to relocate heart hospital Papworth moves forward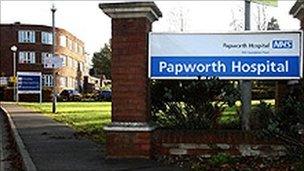 Firms have been invited to put in tenders to build the new £165m relocated Papworth Hospital in Cambridgeshire.
Papworth is planning to move to the new Cambridge Biomedical Campus which is next to Addenbrooke's Hospital.
The relocated hospital, famous for its heart transplant research, is due to open in 2016.
It is being build under the private finance initiative - which brings in private money for public projects.
Papworths says the move to the Cambridge site will be a good move for the hospital and patients as they can share resources with Addenbrooke's Hospital and research with Cambridge University - which is also partners in the Biomedical campus.
The whole biomedical campus scheme is expected to cost about £900m.
Cambridge City Council has given planning permission for the 140-acre site.
The Cambridge Biomedical Campus will also house an extended Addenbrooke's Hospital as well as a children's hospital and research laboratories.
The development will aim to provide improvements to the quality of clinical services, a better patient experience, more modern facilities, and increased research and development capabilities.
Related Internet Links
The BBC is not responsible for the content of external sites.