Council may take over Cambridgeshire busway work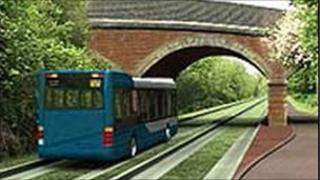 The start of a guided bus scheme in Cambridgeshire is not likely to happen this year after the contractor failed to make progress on fixing defects.
The county council is now preparing to rectify the work itself once BAM Nuttall has completed the whole route.
Costs will be claimed back from the contractor, a spokesman said.
BAM Nuttall said it was prevented from commenting under the contract terms but defect repairs and completion of the two routes were a priority.
A report has confirmed BAM Nuttall has still not fixed six defects on the St Ives to Cambridge section despite promising work would be done months ago.
But BAM Nuttall is making good progress on completing the final section of the track near Trumpington.
Key tasks outlined
Some key tasks have been completed quicker than the contractor projected, the report states.
The contractor has told the council it expects to complete the final section of the route in mid-December.
This means it is now almost certain that both sections of the route will open together despite hopes to open the northern part of the route earlier, a council spokesman said.
"If defects on the northern section are not done within a month of completing the whole route the council will be able to step in and do the necessary work claiming the costs back from the contractor," he added.
BAM Nuttall was contracted to complete both sections of the busway in February 2009 and has had damages of almost £14,000 a day deducted for late delivery. This amounts to more than £7m so far.
Roy Pegram, cabinet member for growth, infrastructure and strategic planning, said: "With some key tasks being completed ahead of the contractor's current schedule, they have told us that all the necessary work will be done in mid-December."