Hauxton odour 'no health threat' scientists tell group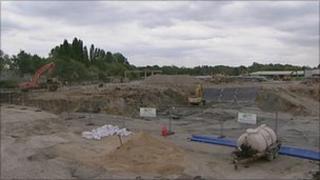 Concerns over the clean up of a former agricultural chemical factory in a Cambridgeshire village have been addressed, public authorities claim.
The Environment Agency said doctors, engineers and scientists had investigated the effects on health of a nauseous odour in Hauxton.
Campaign group Hauxair who raised health issues had been sent a letter assuring them there was no threat.
But the group says it now plans to carry out its own monitoring.
Public authorities and councils had assured the group the monitoring of the Bayer CropScience site in Hauxton showed the odour - described as a "sharp musty smell" - was no threat.
South Cambridgeshire District Council had said the stench came from the chemical saturated soil when it was disturbed.
This soil was then fed through a cleaning process which also caused an odour, which has been likened to fresh gloss paint.
Kevin Rutterford, from the Environment Agency, said: "One concern was over the nature of the monitoring and whether it was truly representative of the organic compounds coming from the site."
This issue has been reviewed by specialists who agree that it does not harm health.
But Mr Rutterford said other steps were being taken.
"We've put in more monitoring and we hope that will give additional assurances to people."
Graham Ford, from Hauxair, said the agencies had too much confidence in their findings
The group was now going to set up its own monitoring using a technique recommended by its own experts.
"Residents still have concerns about their health, about the method of monitoring which did not meet the plan set down by our independent experts and about the concentration of organic compounds."