Phone box in Cambridgeshire to become art gallery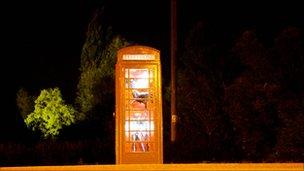 A disused phone box in a Cambridgeshire village has been turned into a community art gallery.
The red traditional K6 box in Prickwillow, Ely, was bought by the village council from BT for £1 on the condition it could not be moved.
Local graphic designer Nick Edell came up with the idea to transform it into a space to display art.
Villagers have been restoring the box for free and on Wednesday the first exhibition will be opened.
For the next month steel fairies and mushrooms made by sculptor Pete Baker will be on display.
Mr Edell said: "We are hoping that this phone box - an iconic English space - will capture community imagination.
"Our aim is provide an open art space for local artists, craftspeople, galleries and school children as well as contemporary artists and photographers from further afield."
Villagers have been planning to hold about one show each month and will work alongside Arts Development in East Cambridgeshire on certain projects.
Related Internet Links
The BBC is not responsible for the content of external sites.