Illegal eel nets found in Cambridgeshire river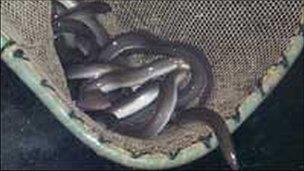 Four illegal eel nets have been found and removed from a river in Cambridgeshire.
Officers from the Environment Agency were alerted by a warden from the Royal Society for the Protection of Birds.
The bag-shaped fyke nets were spotted on the river Nene downstream of Peterborough.
The first ever closed season for eel trapping started on 1 October to protect eels as they migrate out to sea to spawn in the Sargasso Sea.
Jake Reeds, environment monitoring officer at the Environment Agency, said: "The four nets were in a string formation set along the north bank of the tidal Nene.
"They were set without tags, which must be bought by eel fishermen and placed on each of their nets.
"They also didn't have otter guards which puts at risk other protected animals on the river and not just eels."
The agency said the number of young eels returning to rivers across Europe had fallen by 95%.
It imposed the six-month closed season following calls from the European Commission for all member states to take immediate steps to protect eels and halt their decline.
Anyone found responsible for setting eel nets during the closed season could face prosecution.
Related Internet Links
The BBC is not responsible for the content of external sites.