Jealous Cambridge man murdered pregnant ex-girlfriend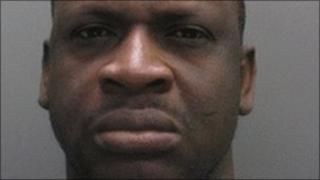 A drug dealer has been found guilty of murdering his pregnant ex-girlfriend weeks after leaving prison.
Lloyd Bartley, 47, stabbed 32-year-old Penny Taylor 17 times with a kitchen knife at her flat in Fanshawe Road, Cambridge, in April.
Bartley, also of Cambridge, was jealous that Ms Taylor was pregnant by someone else, Cambridge Crown Court heard.
Judge Anthony Bate said Bartley would be given a mandatory life sentence when he returned for sentencing on Tuesday.
Bartley had been given a two-year jail term by a judge at Cambridge Crown Court in July 2009 after admitting possessing cocaine with intent to supply.
After being released from prison on licence in March he visited his former girlfriend and the two children they had together.
On the last of these occasions he stabbed her after hearing that she was seeing another man.
Bartley denied murdering Ms Taylor and said she had stabbed herself but a jury rejected his story.