Peterborough's A&E unit moves to new £335m hospital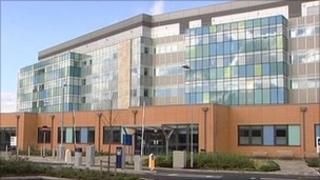 Peterborough's accident and emergency unit has moved to the city's new £335m hospital overnight.
The first hospital patients moved in last month and other departments are gradually moving to the new site.
The new A&E unit has an individual department for children and a bigger minor injuries unit.
All patients requiring emergency treatment must now visit the emergency centre on the Edith Cavell campus at Bretton Gate.
Celia Kendrick, lead nurse for the emergency department said: "The transfer went very smoothly and we are extremely happy to be in our new home at the City Hospital.
"Our staff worked very hard throughout the night to ensure that our patients remained safe and that our equipment was moved over securely.
"It is an exciting time for the department as we are now working from a state-of-the-art facility which is a much better environment for our patients."
Ms Kendrick said the new unit featured an eight-bedded resuscitation room and a much bigger area to treat minor injuries, such as broken bones.
She said: "The biggest plus is we have a separate children's emergency unit so we can keep children completely separate from the adult patients."