Rock ramp on River Welland helps sea trout to migrate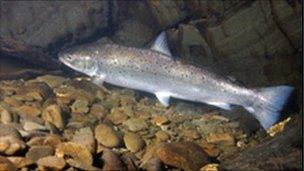 A ramp costing £40,000 has been built to help sea trout migrate to their breeding grounds in a Cambridgeshire river.
The Environment Agency (EA) created a ramp made from rocks to allow the fish to pass a weir on the Maxey Cut, a side channel of the River Welland.
The weir was acting as a barrier, stopping the fish from swimming to their spawning grounds.
The EA said it hoped to reverse the fish's declining numbers.
Fisheries, recreation and biodiversity team member, Nick Kite, said: "Historically, the River Welland had a thriving sea trout population.
"However, in more recent years, they have become somewhat of a rarity, with only the occasional one being seen.
"Creating this rock ramp will make a big difference to the ability of migratory fish to reach their spawning areas.
"A fish was seen jumping, trying to pass the weir on the day work started."
The Maxey Cut rock ramp is part of the Welland Sea Trout Project and was created using more than 300 tonnes of stones topped with 50 tonnes of finer material.
Smaller boulders have been placed around the structure to create a range of different water flow rates and resting places for fish.
Species of fish that will benefit from the ramp include weaker swimmers such as young eels - known as elvers, a species that has seen its numbers decline over the past 20 years.
Smaller fish species such as stone loach and bullheads will be able to find shelter under the cobbles.
The EA said over time aquatic and riverside plants would be able to colonise the edges and main channel of the Maxey Cut providing new opportunities for birds and invertebrates.
Related Internet Links
The BBC is not responsible for the content of external sites.