Arrests at city protest marches in Peterborough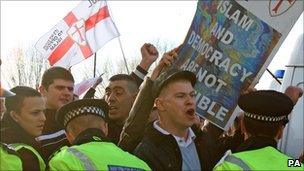 Eleven men have been arrested during an English Defence League (EDL) march and counter-protest in Peterborough.
There were a variety of public order offences, including suspicion of assaulting police officers.
About 1,000 officers from 18 forces policed the protests. Cambridgeshire Constabulary said about 500 EDL protesters were involved.
They said about 80 people took part in the Peterborough Trades Union Council protest and no arrests were made there.
Both groups were escorted by police to and from the city centre.
"Peterborough stood firm and the city should be proud of the way it has responded to today's events," he said.
"There were some issues of disorder dealt with promptly and professionally to achieve a peaceful outcome. Some arrests have been made, but both protests have been generally peaceful."
EDL leader Tommy Robinson said: "Militant Islam is probably at its peak in this country.
"The problem will get worse and worse unless it's tackled, and that's what the English Defence League is trying to do."
Shortly after 1300 GMT he gave a speech via a loudspeaker in Lower Bridge Street.
Some supporters chanted "EDL" and "I'm England till I die".
Police said most protesters had left the city by 1545 GMT and roads which had been closed ahead of the demonstrations had reopened.
Unite Against Fascism said it and Peterborough TUC had called for a "march for unity" from Bishops Road car park to show local opposition to the "invasion" by the EDL.
"The EDL hope to stir up hatred against the city's Muslim population and the many migrant agricultural workers who travel from across Europe to work on farms during the harvests," a spokesman said.
Related Internet Links
The BBC is not responsible for the content of external sites.