Cambridge guided busway checked amid row over delays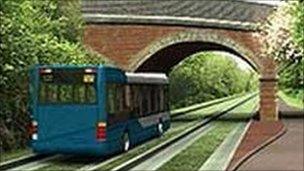 Final signal checks are being carried out on a delayed guided busway in Cambridgeshire before it is opened next year.
Contractors BAM Nuttall will run buses between Cambridge and St Ives to ensure the sensors, that trigger the traffic lights to give buses priority, work.
Cambridgeshire County Council (CCC) said cyclists and walkers should keep off the track on Thursday.
CCC and BAM Nuttall are in a dispute over delays to the £116m busway.
BAM Nuttall was contracted to complete both sections of the busway by the end of February 2009.
The county council said it would continue to deduct £14,000 a day from BAM Nuttall for late delivery of the project on top of almost £9m that has already been withdrawn.
The council said if any defects remained once BAM Nuttall had completed the work, it would be done by another firm and paid for by BAM Nuttall.
Cabinet member for growth, infrastructure and strategic planning Roy Pegram said: "By having new contractors ready to go we will try and make sure there are no further unnecessary delays, but until the route is handed over by BAM Nuttall we are very much in their hands.
"Cambridgeshire deserves the very best and the costs of correcting BAM Nuttall's defective works will be deducted from the contractor and not paid for by taxpayers."
A spokesman for BAM Nuttall said the firm was unable to respond to any of the county council's accusations.
He said under its contract it had to ask the county council for permission to give interviews and that on many previous occasions that had been refused.
Related Internet Links
The BBC is not responsible for the content of external sites.