Cambridgeshire police hail cuddly toy scheme success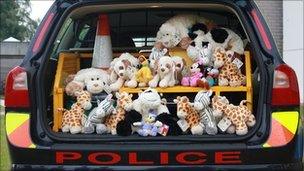 Toys given to child survivors of road crashes and other incidents by Cambridgeshire police officers have been a great success, the force said.
All police cars attending crashes and firearms incidents have carried soft toys since June.
So far 12 toys have been handed out during 2010, mostly at scenes of road accidents, a spokeswoman said.
Inquiry officer Jackie Gadd, who began the scheme, said she had received "glowing feedback" from parents.
In November, a nine-year-old girl was taken to hospital by the Cambridgeshire police helicopter after falling from a tree and impaling herself on some railings in Stotfold, Hertfordshire.
Officers were not able to give her the toy at the time because her condition was serious but doctors passed it on.
The girl's mother later contacted officers to say how much her appreciated it daughter and she had been touched by the gesture.
Ms Gadd, who set up the scheme after hearing about its successful use by Wiltshire police, said: "I am delighted with the feedback I have received from officers.
"Some of their stories have been very touching.
"Unfortunately, children will always be involved in traumatic incidents from time to time but I'm convinced that having a teddy to cuddle while the incident is being dealt with reduces their stress significantly."
Violent domestic incident
Jackie, who was involved in a collision with her own children several years ago, secured funding for the scheme from the St Neots Police Charity Ball committee.
Soft toys were donated by local stores.
Sergeant Sam Kerr, from the force's firearms unit, said: "My team has issued two. The first was to a little girl who was extremely upset following a violent domestic incident.
"The second was another little girl who happened to be deaf and dumb at the scene of a road collision.
"On both occasions they have been extremely useful and helped to ease what were very stressful situations for the children concerned."
Related Internet Links
The BBC is not responsible for the content of external sites.