Stranded college choristers arrive home to Cambridge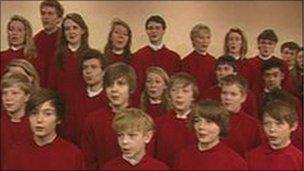 A choir that feared it would be stranded in the USA over Christmas when bad weather caused their flight to be cancelled have arrived home.
The choristers from Jesus College will be straight back into action at midnight Mass.
The 43 students, choristers and staff were performing in Washington when snow prevented them flying back.
Dr Shaun Fitzgerald, a parent chaperone, said they were all exhausted but were planning to sing at the mass.
Allison Pearson, whose 11-year-old son Thomas is one of the choristers, said: "They've been 10 days out in North America having a fantastic time but they're very, very tired."
Richard Walford, whose son Hugo is another chorister, praised the way the boys were being looked after.
"The Americans have been absolutely fantastic and been very welcoming and kind to them," he said.
Related Internet Links
The BBC is not responsible for the content of external sites.