Crews remain at Ellington recycling centre fire scene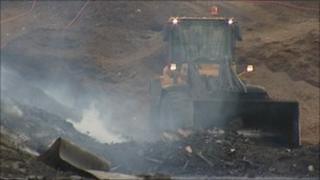 Two crews are still at the scene of a fire which forced the closure of the A14 in Cambridgeshire at the weekend.
Firefighters were called to Huntingdon Recycling Centre, in Ellington, in the early hours of Saturday where 1,000 tonnes of waste was on fire.
At its height, 60 firefighters tackled the blaze and the A14 westbound was closed between junctions 21 and 13 for about four hours.
Heavy machinery was used to try to stop the fire in wood pulp spreading.
Firefighters may have to remain at the site for the next 24 hours.